The "APU2030 Vision – A President-Sponsored Public Comment from Current Students" was an opinion exchange event that took place between President KORENAGA and current students concerning the future of APU on Tuesday, January 13, and Wednesday, January 14, 2015.
The "APU2030 Vision" depicts the ideal image of APU at the 2030 mark using the achievements of our university up to this point as a springboard as we aim to make further strides in the next 15 years. We are currently working on formulating the APU2030 Vision and are gathering the opinions of currently enrolled students and alumni as one part of this endeavor.
On the day of the event, President KORENAGA spoke to the students regarding the proposed concepts of the "APU2030 Vision." The students then held group discussions and talked over what they saw as potential challenges for further growth and gave presentations on what they thought the future of APU would look like.
Students gave many opinions and suggestions regarding some of the issues confronting APU and made various requests such as the further enrichment of academics and an expansion of the alumni network. There were many positive remarks from students regarding the future direction of APU with many stating that they wanted to know more about the plans and be involved.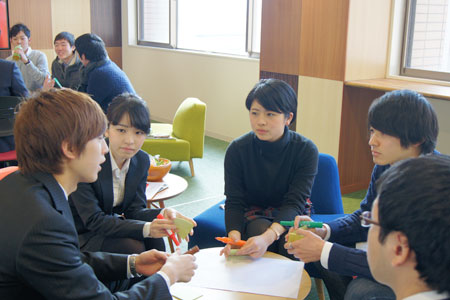 President KORENAGA listened intently to the student's opinions which were lined with the numerous experiences gained throughout their lives as APU students.