連携事業|社会貢献|講演・シンポジウム
Mar 10, 2015
Ritsumeikan Asia Pacific University (APU) recognizes that internationalizing and revitalizing the local community is an important mission, so as one way to fulfill this mission, it has been offering APU Public Lectures since 1998, two years before the university opened.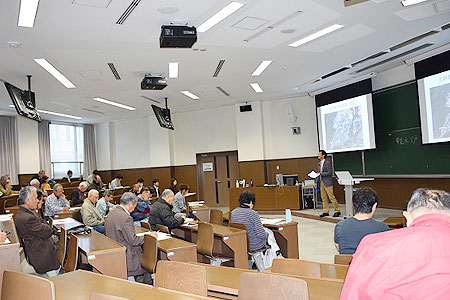 In AY2014, the theme for the APU Public Lectures was "Introduction to International Relations—Learning How to See the World", and they were held as part of a Toyono-manabi Consortium Oita cooperative lecture series. The five lectures by expert faculty in the series attracted 230 participants in total.
Faculty from APU and Oita University gave talks on intercultural understanding and international relations, explaining a range of topics from various perspectives. Lively discussions ensued from some of the lectures.
One participant remarked, "It made me understand the importance of looking at things from various angles." Another participant said, "It was a good opportunity to listen to a topic that the media doesn't cover." Yet another participant declared, "I plan to attend more of these lectures in the future."
Click here for a full list of the AY2014 APU Public Lectures