A group of press corps members from ASEAN member states visited APU on Sunday February 15th as the last destination in a week-long tour hosted by Ministry of Foreign Affairs of Japan (MOFA), to review Japan's politics, economy and current social situation. In this visit, APU held small group discussions between the press corps members and APU students, most of whom hailed from Southeast Asian countries, about the uniqueness of APU as an institution of higher education in Japan after a brief explanation by Professor KONDO Yuichi on the history of the university. The press corps members also toured AP House before leaving for Fukuoka for their flights home the day after.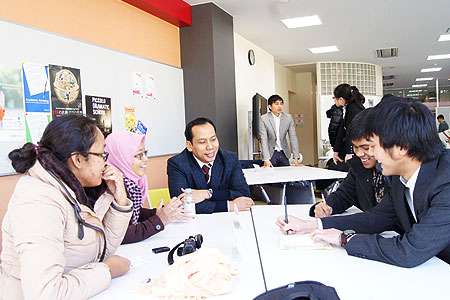 In his explanation, Professor KONDO emphasized the unique position in higher education to which APU aspires. He described how APU is working to create a global environment within the university to prepare its students for competition in the increasingly international world after they graduate, rather than just focusing on traditional aspects higher education.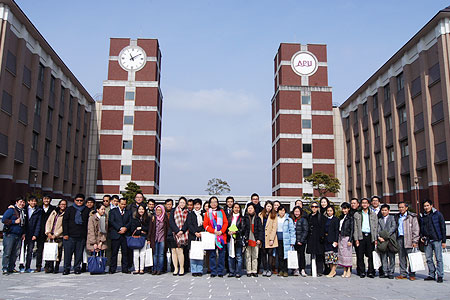 In the group discussions, some members of the press corps interviewed APU students about their studies, extracurricular activities and campus life in general. Questions covered topics such as the interaction between international and domestic students and student career choices after graduation. The session ended with a less formal lunch meeting, where more personal stories like the students' backgrounds and the press corps members' experiences during their time in Japan were exchanged in a relaxed atmosphere.
Reporter, Student Press Assistant (SPA):
RACHMAN Muhammad Aulia (Republic of Indonesia)