On Thursday, March 5, 2015, two ANDO Momofuku Honor Prize recipients and eight ANDO Momofuku Award recipients from APU as well as two ANDO Momofuku Award International Student Scholarship recipients from Ritsumeikan University visited the Head Office of NISSIN FOODS HOLDINGS CO., LTD. in Tokyo.
During a social gathering with President, Representative Director and CEO Mr. ANDO Koki and other officers of NISSIN FOODS HOLDINGS, each individual student gave a self-introduction and expressed their gratitude for being granted an award, followed by mention of their future dreams and other comments. This gathering also supplied the students with a valuable opportunity by enabling them to field questions from members of management of a top-tier corporation and engage in friendly banter with them.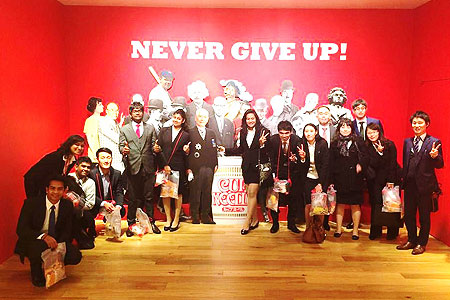 After the gathering, the visiting students proceeded to the "CUPNOODLES Museum," which features exhibits detailing the culinary inventions of Honorary Dr. ANDO Momofuku, in Yokohama's Minatomirai area. There, the students learned about his legacy and the development of instant ramen as a dietary culture, and worked in make-shift "factories" where they produced CUPNOODLES and Chicken Ramen.
The innovation behind ideas, the importance of persistent effort, the nature of contributing to society on an international level and other takeaways from the students' visit considerably stimulated the growth of their dreams for the future.
More information on this scholarship and the 2014 recipients is listed below.

*The ANDO Momofuku Honor Prize
This scholarship was established through the courtesy of the late Dr. ANDO Momofuku, founder of Nissin Food Products Co., ltd. and honorary doctor. The scholarship aims to support undergraduate students who are scheduled to graduate and who have a strong desire to contribute to the Asia Pacific Region in their future careers. Each year one to two students are awarded this scholarship.

< AY2014 Recipients >
TEERAWAT Kanmanee
MOHAMED Ikram M. I.
The ANDO Momofuku Award This award was also established through the courtesy of the late Dr. ANDO Momofuku. It aims to support students with high academic merit and insightful personalities who have participated extensively in extracurricular activities and displayed strong leadership qualities. One to four students in their 2nd or 3rd year are awarded this scholarship each year.

< AY2014 Recipients >
HATURUSINHA Y. N.
SHIN Dong Uk
TAKADA Yuya
ASWIN Pushparaja
WICKRAMANAYAKE P. P.
JAYASURIYA Amaya T.
KANSAKAR Aishwarya
VIJAYAN Swathinath