教育プログラム|連携事業
Apr 27, 2015
Starting on Saturday, April 18, 2015, a two-day global leadership workshop was held at APU.
Approximately 30 employees and managers from top global Japanese companies attended along with30 international students. This was the second time that this workshop, which was conducted entirely in English in collaboration with the Institute for Strategic Leadership (ISL), was held at APU.
The aim of this event is two-fold: to help Japanese workers develop leadership and communication skills by making the most of in APU's multicultural environment and to provide international students with an opportunity to discuss working in the real world, Japanese-style management and philosophy and Japanese views on work with Japanese workers.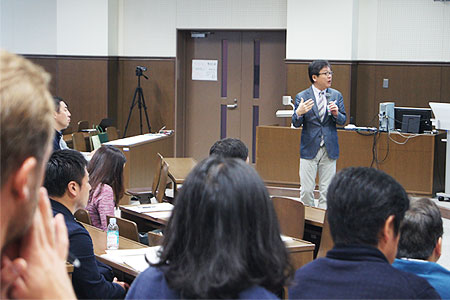 On day one of the event, participants split up into small groups consisting of APU students and Japanese workers. They completed a range of hands-on team-building tasks under the supervision ofexpert faculty to experience group problem solving, collaboration, and trust-building in a multicultural environment. Members learned how leadership should be exercised in a multicultural environment by giving each other feedback.
In the morning of day two, members tried "Radio Gymnastics", which is Japanese typical exercise done in the morning assemblies of many Japanese companies.
On the final of the event, a speech contest was held in which Japanese workers gave English speechesto an audience APU students based on the theme of "What kind of leaders would you like to work with?".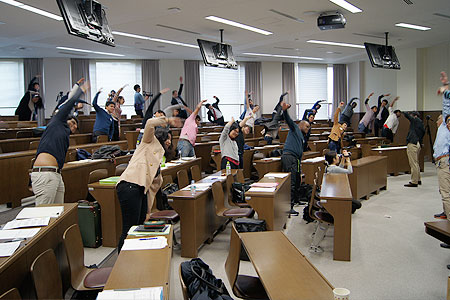 The APU students served as judges. They evaluated the speeches frankly and gave advice to the presenters, and finished by selected one grand prize winner.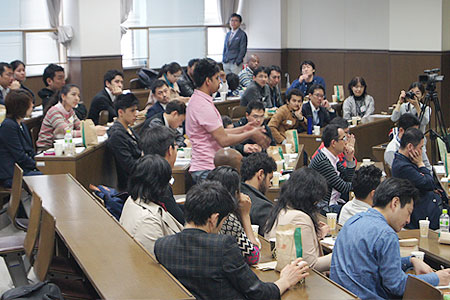 Receiving feedback and advice from the APU students enable the Japanese workers to learn what kind of communication and leadership skills are required in a multicultural work environment.
Equipping students with the skills and abilities needed to successfully conduct business in multicultural and international environments is one of the central aims of APU. With this goal in mind, APU provides a range of curricular and extracurricular opportunities for students to interact with business representatives and learn first-hand about doing business in Japan and around the world.