On Friday, October 2, 2015, APU held the opening ceremony for the Global Competency Enhancement Program (GCEP) for corporate trainees to be accepted in the first quarter of the 2015 Fall semester. This time a total of nine individuals across nine companies will be studying at APU, the most since the program was first offered.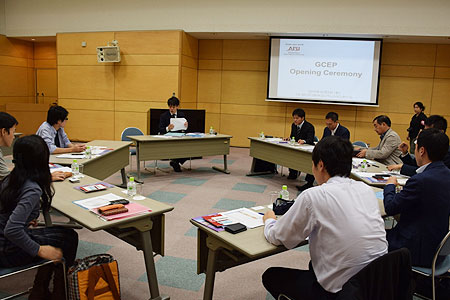 In addition to the trainees and HR personnel from their respective company, YAMAGAMI Susumu, Assistant to the Trustees, also attended the ceremony.
At the ceremony, Assistant to the Trustees YAMAGAMI welcomed the trainees with the following statement: "In addition to enabling members of the workforce to make social contributions that leverage their takeaways from APU's multicultural environment, this program also enables APU students to learn a considerable amount from those working members of society. In that sense, this endeavor benefits both groups. My hope is that participating trainees use the program to help improve themselves going forward." Afterwards, each individual trainee introduced themselves and spoke with enthusiasm on what they seek to accomplish with their training, among other topics.
For the duration of their upcoming training at APU, trainees will take part in a training program that meets the needs of their respective company. As they participate in lectures together with a variety of APU students, through communicating with those students, trainees will gradually outfit themselves with the kind of broad view and international-mindedness that global society requires of them.
During their training, trainees will reside in the "AP House" student dormitory and be given one-on-one support in language studies by Teaching Assistants (TAs) handpicked from among APU graduate and undergraduate students with various nationalities. This Active Language Learning (ALL) arrangement serves to cultivate language ability on a more practical level.
The Global Competency Enhancement Program (GCEP) was developed to provide industry and business trainees the opportunity to experience our multicultural and multilingual campus environment while studying at the undergraduate or graduate level.