On Wednesday, October 7, 2015, the Ritsumeikan Asia Pacific University Research Center for Muslim Affairs (RCMA) held its first-ever special lecture. The lecture, which was held for local and out-of-prefecture companies interested in Muslim-related business opportunities, provided basic knowledge about Islam and discussed the development of and potential market for halal foods. Approximately 30 people, including company personnel and Prefectural Office staff, were in attendance.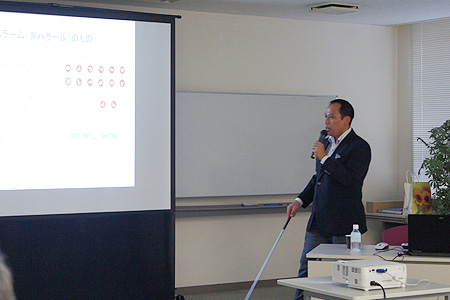 RCMA Director Professor YAMAMOTO Susumu began the session by explaining Muslim-related business opportunities and the Center's initiatives. Next, RCMA Deputy Director DAHLAN Nariman provided some basic information on halal foods and discussed the domestic market and demand therefor. He also reported on the development of halal foods in Oita Prefecture. In his talk Deputy Director DAHLAN said that while demand for halal foods is increasing in step with the uptick in Muslims living in Japan, there still remain several issues with regard to the development of halal foods in Oita Prefecture, such as the labor cost involved in obtaining halal certification and a lack of necessary equipment.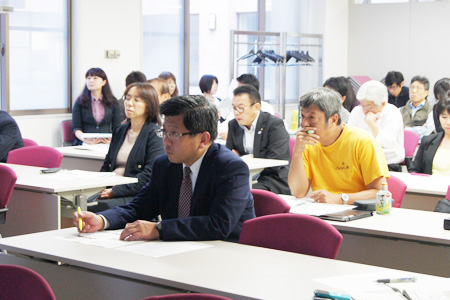 In the question-and-answer session after the lecture, one participant said he knew that halal foods and drinks could not contain alcohol, but was surprised to learn that the soap used to clean dishes could not contain alcohol as well. He then asked what measures should be taken to sanitize cooking areas. Deputy Director DAHLAN replied by saying that standards differ depending on the halal certification body and that not all of them have such strict requirements. He said that given the small population of Muslims in Japan, some certifying bodies may permit the use of alcohol for sanitizing since it is not intended for consumption.
Going forward, RCMA plans to hold more of these kinds of special lectures.
Reporter, Student Press Assistant (SPA):
UCHIYAMA Midori (Japan)