On Tuesday, October 20, 2015, three APU international students competed at the 13th Japanese Speech Award for Foreigners held at Yoshikan High School, Oita City. All of the APU participants claimed prizes including GAUTAM Sadhna Manisha (College of International Management 3rd year, Fiji) who was awarded the Grand Prize.
Hosted by the Goto Gakuen Trust, this annual contest is held in order to promote international understanding and is open to foreigners who have lived in Japan for less than five years. This year, 11 students, including three APU students, passed the initial round of screenings to make it to the contest.
Each of the APU students impressed the judges and audience of Yoshikan High School students with their fluent Japanese skills and were able to show the results of their daily efforts to matser the Japanese language.
GAUTAM Sadhna Manisha took home the Grand Prize with her speech entitled "Language is Culture". In her speech, she gave high school students the following advice: "I have come to realize that learning a language does not just mean learning words, it also means gaining and understanding of culture and manners in relation to those words. In Japanese, the word 'otsukaresama' is used to commend people for their effort. This word made me realize once again that there are other people around me who are also working hard. Words carry with them the cultural context of their respective languages. So, don't just study English, experience it and get a feeling for the culture of the language."
Center for Language Education Lecturer WATANABE Wakana, GAUTAM's speech coach, stated that "The appeal of APU students is, more than anything, their honesty." With regard to the Japanese proficiency of international students, she said, "International students meet, greet and talk to many local people in their neighborhoods and at their part-time jobs. Because they are studying on an international campus, they do not put up barriers between themselves and other people. They are treated well by the local people, and the activities that they undertake also seem to have a positive impact."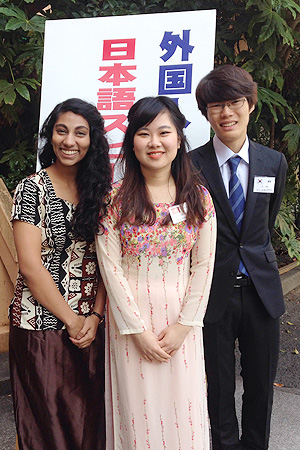 In addition to Japanese and English language education, APU also offers study opportunities in six languages of the Asia Pacific region at the Centre for Language Education. Making up almost half of the student body, APU's international students also take advantage of opportunities to study Japanese outside the classroom through extracurricular activities and exchange events with the local community. APU international students' high level of Japanese proficiency continues to be highly regarded by Japanese industries and businesses.
13th Japanese Speech Contest for Foreigners

Grand Prize
GAUTAM Sadhna Manisha (College of International Management 3rd year, Fiji)
Theme:"Language is Culture"
Mainichi Shimbun Prize
SHIN Myeonggwan (College of Asia Pacific Studies 1st year, South Korea)
Theme:"Until I Make it to the Top"
Nishinippon Shimbun Prize
NGUYEN Thi Xuan Nga
(College of International Management 4th year, Vietnam)
Theme:"Learning to Communicate Better"