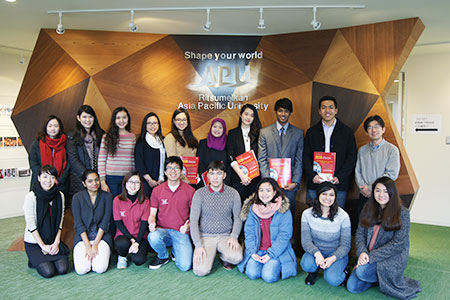 On Wednesday, February 3, 2016, the student group ACES held the award ceremony for its 1st Essay Competition. Formed in 2014 for the sake of the forward development of the College of International Management (APM) and the Graduate School of Management (GSM) at APU, ACES oversaw the planning and operation of this competition with the assistance of APM Associate Dean OTSUKA Kozo, who served as advisor.
During AY2015, APM and GSM have already held two meet-and-greet sessions organized by ACES for students to communicate their opinions to Deans and other faculty members. With this essay competition, students did the same, only this time "in writing."
The theme for essays in this competition was "Your ideal APM/GSM." Entrants were separated across three categories: 1st- and 2nd-year APM students (Category I), 3rd- and 4th-year APM students (Category II) and GSM students (Category III). Faculty members performed a strict review of essay entries based on whether or not student suggestions were feasible for the purpose of improving the learning environment at APM or GSM. Following that review, the following five students were chosen to receive an award. Award certificates and supplementary prizes were presented to the winners by Associate Dean OTSUKA and Associate Dean ALCANTARA Lailani Laynesa. Note that there were no entrants in the GSM category (Category III).
Suggestions by LAYYIN Nafisa Arifin, who took 1st Place in Category I, included increasing debates and discussions in classes with smaller numbers so that students may become proactive in classes, as well as increasing the number of required courses in chosen fields of expertise in order to boost specialization. MUHAMMAD Badi'uzzaman Bin Abdul Lattif, who placed 1st in Category II, suggested reducing the number of quarter courses and introducing prerequisite subjects so that students could spend more time furthering their understanding.
ACES plans on continuing such activities in the future as well in order to keep elevating the quality of learning at APM and GSM.
Category I (1st and 2nd year APM students)
1st place: LAYYIN Nafisa Arifin (2nd year, Indonesia)
2nd place: NGUYEN Le Nhat Tram (1st year, Vietnam)
3rd Place: PERERA Priyesh Dimitri (1st year, Sri Lanka)
Category II (3rd and 4thyear APM students)
1st place: MUHAMMAD Badi'uzzaman Bin Abdul Lattif (3rd year, Brunei)
2nd place: KESLY Winona Gunawan (3rd year, Indonesia)