On Monday, January 25, 2016, the APU Career Office held an event with four APU alumni based in Singapore. The alumni came to give talks and host a discussion with current APU students. Due to heavy snowfall, the venue had to be moved from the campus to downtown, but nevertheless, a large number of students joined the session.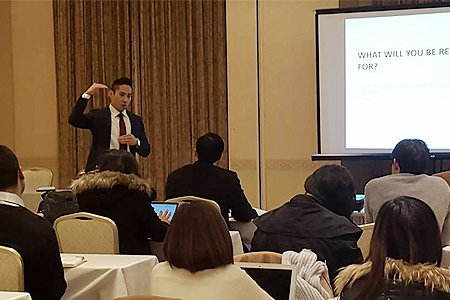 The event started with the members talking about their experiences going to graduate school and volunteering, and how these activities benefited their career development. This first session featured Dissa, who established Indonesia's first cafe employing all deaf employees while working as an equity analyst for the Singapore office of Credit Suisse, and Pyeetson, who currently works for the security consultancy firm Control Risk after having earned her Master's degree in International Political Economy from Nanyang Technological University, Singapore. The second session, which focused on career planning, was facilitated by OMINE, who works at the recruitment consultancy firm Morgan McKinley. Finally, the third session was a resume writing workshop led by Kanmanee, who works for Google.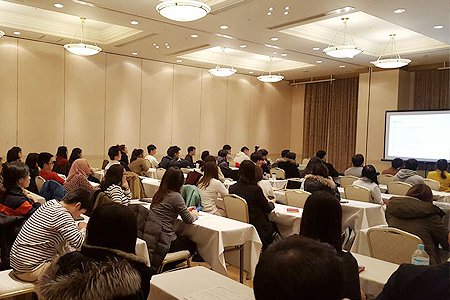 After the three sessions, a panel discussion was held with all four alumni. In between and after the sessions, students approached the alumni to discuss their personal interests and career plans.
The alumni all agreed that Singapore is a growing business hub in Asia with a lot of opportunities to be had. They said that multilingual people and those with experience in multicultural environments would have an advantage looking for work in Singapore which is somewhat reminiscent of APU.
Participating alumni
OMINE Isao (College of International Management, Fall 2010, Japan)
Dissa Syakina Ahdanisa (College of International Management, Fall 2010, Indonesia)
May Pyeetson Aung (College of Asia Pacific Studies, Fall 2011, Myanmar)
TEERAWAT Kanmanee (College of International Management, Fall 2014, Thailand)

Reporter, Student Press Assistant (SPA):
RACHMAN Muhammad Aulia (Indonesia)