APU held the Hirameki - Tokimeki Science -Welcome to the University Laboratory- KAKENHI program on Saturday, July 16 and Sunday, July 17, 2016. A total of 71 students attended the two day program; 18 from Iwata High School, 16 from Oita Maizuru High School, and 37 from the Oita National College of Technology.
The Hirameki - Tokimeki Science program aims to foster intellectual creativity among students who will lead the future. It also aims to convey the outcomes of scientific research as part of the Japan Society for the Promotion of Science (JSPS)'s efforts to popularize the Grants-in-Aid for Scientific Research program. Under the auspices of JSPS, APU, and the Asia Pacific Innovation Management Center (AP-IMAC), College of International Management Professor NAKATA Yukihiko lead the program, holding a seminar on the topic of "Japanese Manufacturing and International Management - From LCD Calculators to LCD TVs and Solar Cells." The participants in the program studied the management of technology, technological development, and the history of LCDs, from calculators to televisions.
In the seminar, the students first heard a lecture from Professor Nakata on LCD mechanisms and their connection to Japanese manufacturing. They then took apart a notebook computer that had fallen out of use and studied the LCD mechanisms and semiconductors inside with the help of Mr. SHUTO Yoshihisa, the former director of the Sharp Oita Technology Center.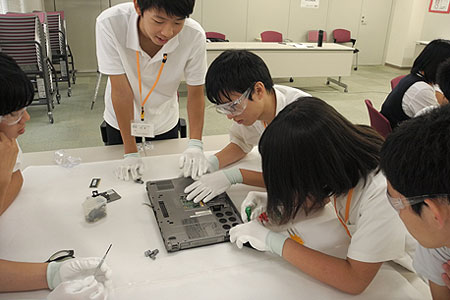 Students looking at the interior of a computer and the LCD mechanisms inside.
In the second half of the program, the students formed groups and engaged in presentations and debates on what is necessary for research and development of innovative technologies and products. In doing this, they referenced the behind-the-scenes story of Sharp's development of the LCD calculator as it was presented in NHK's Project X program. During this part of the program, the students received support from domestic and international students working as teaching assistants.
Mr. Shuto also showed the students one of the world's first calculators, developed by Sharp. The British Museum even has one of these in its collection. This was a valuable opportunity for the students to see how much larger and heavier these calculators are compared to present day models.
Students getting an up-close look at the world's first calculator
At the end, Professor Nakata awarded all the participants a "PhD of the Future" and encouraged them to become leaders of Japan's world-renowned research and manufacturing.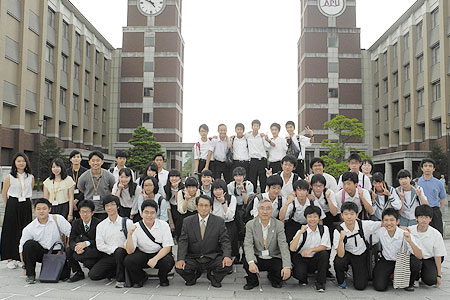 Students from Oita Maizuru High School and Iwata High School
Students from Oita National College of Technology