講演・シンポジウム|来学者
Dec 2, 2016
The 14th Asia Pacific Conference, hosted by the Ritsumeikan Center for Asia Pacific Studies (RCAPS), was held on November 5 and 6, 2016. The conference was held as part of RCAPS 20th Anniversary.
With the theme "The Changing Asia Pacific: Sharing Knowledge, Shaping the Future", the conference attracted around 500 presenters and audiences, the largest number to attend the conference to date. Attendees included well-known researchers from around 20 countries and regions as well as prominent graduate and undergraduate students, all speaking on various issues in the Asia Pacific region.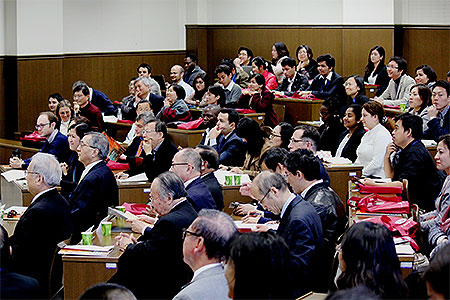 Participants were honored to welcome three prestigious professors to deliver the keynote speeches. Professor KARIYA Takehiko, of the Sociology of Japanese Society and the Nissan Institute of Japanese Studies at the University of Oxford, led with a speech titled "Doing Research on Japanese Society in a Global Era", where he emphasized that a 'habitus' of designing education reforms is embedded in Japan's long history of catching up with the modernization where a theory of deficiency is repeatedly applied to educational policy making.
The second keynote speech, titled "The Development of Business Education in Asia", was delivered by Professor Japhet S. Law, senior advisor to the European Foundation for Management Education (EFMD) and the Graduate Management Admissions Council (GMAC). In his speech he presented the driving forces behind the development of the Asian economy, and an analysis on how these forces have contributed to the differences in the outcomes, the challenges, and opportunities for the business education sector in Asia.
The final keynote speech was delivered by APU President KORENAGA Shun. President KORENAGA's speech was titled "Modern Chinese Poetry and Poetics", which discussed the history, timeline, and the development and characteristics of modern poetry and poetics in East Asia and in China.
The conference included 73 panel sessions conducted around the main theme. Sessions were held not only in English but also in Japanese. Overall, the participants, including researchers, speakers, and members of the audience, had a great time joining in different panel sessions to acquire new knowledge about issues across the Asia Pacific region.
Reporter, Student Press Assistant (SPA):
TRAN Thi Viet Hai (Vietnam)
VU Le Thuc Anh(Vietnam)
NAKASHIMA Mika(Japan)