学生生活|社会貢献|イベント
Dec 5, 2016
On Saturday, November 12, 78 APU students (57 international students from 13 countries and regions* and 21 domestic students) and seven APU alumni living in Kumamoto visited Mashiki, a town in Kumamoto affected by the Kumamoto Earthquakes in April. There they performed traditional dances and cooked ethnic fare from many different countries and regions to help cheer up children and other local people and assisted with the town's recovery efforts.
Every year, multiple student groups get together to run Culture Wagon Camp, an international exchange event held in a different location each time. This year, the students joined forces with a group of alumni from Kumamoto to hold this event in Mashiki in an effort to assist with the recovery while promoting intercultural exchange.
On the day of the event, which was held in the gymnasium of Hiroyasunishi Elementary School, international students introduced greetings and games from their home countries and regions, after which they let participants try on traditional costumes and took photos with them. In this way, the people of Mashiki were able to directly interact with APU's international students.
On the stage, students performed traditional dances from Indonesia, Oceania, and China and held a Korean martial arts demonstration. They also performed regional Japanese dances from Tohoku and Okinawa. Meanwhile, locals joined the Kumamoto-based alumni in a samba rendition of Kumamoto's traditional "Otemoyan" dance.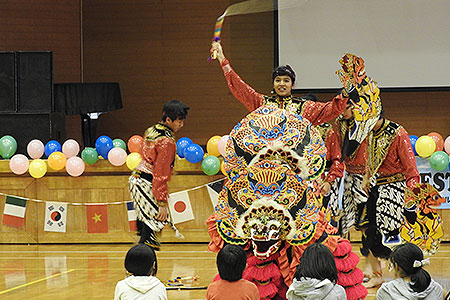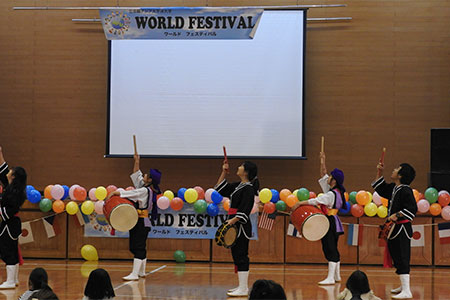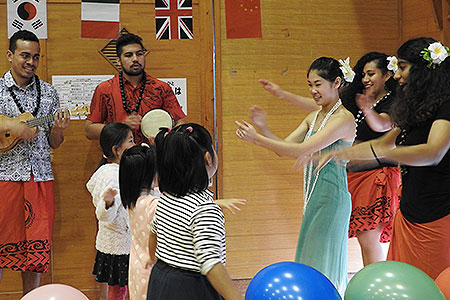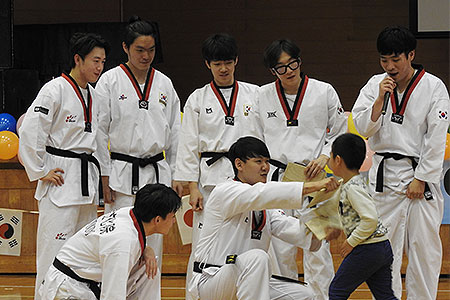 Outside of the gymnasium, Sri Lankan students served up a less spicy version of their country's curry so that even the younger children could enjoy it.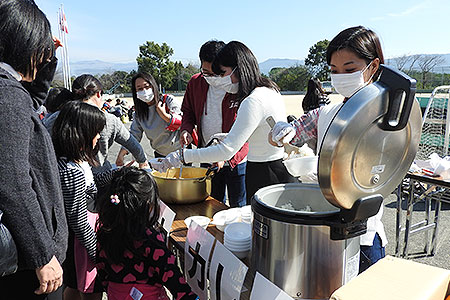 The students who arranged this event visited Mashiki in October as volunteers, and that's when they realized that, even after six months, the reconstruction was not making much headway. After that, they decided they wanted to cheer up the locals who gave them a warm welcome and spent the next several weeks preparing for the event.
Not only were the students able to provide the children and local residents of Mashiki with an enjoyable intercultural exchange experience, they are sure to use what they learned from running this event to contribute to the wider world.
* The students who participated in this event included international students from the United States, Indonesia, Samoa, Sri Lanka, Thailand, Tonga, Fiji, Vietnam, Marshall Islands, Micronesia, Myanmar, South Korea, and China.