This semester the College of International Management (APM) started offering a new subject in the undergraduate business program. Officially titled "Special Lecture: Capstone", this subject serves as the culmination of four years' of study for APM students. For this capstone subject, the University invites guest lecturers from companies to discuss actual issues their companies face, and domestic and international students work together to apply the management knowledge they have accumulated in the course of their studies to explore solutions to the issues raised.
The subject is divided into two parts, and each part focuses on a different company. The case study for the first part of the subject, which began in October, is Books Ogaki, Ltd., a bookstore chain with several outlets in and around Kyoto Prefecture. On October 13, CEO OGAKI Morihiro came to APU to give a lecture about the company's businesses and the current state of the publishing industry.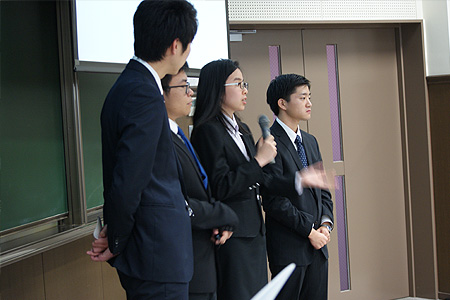 After this, the subject instructor, APM Associate Professor ALCANTARA, gave a lecture aimed at deepening the students' knowledge. The students were divided into groups of five, with each group containing a mixture of Japanese and English-basis students from different countries and regions who were studying different specializations. The student groups pondered company's actual problem, applying the skills they have learned at APU since their first year and using the insights and skills they had developed by way of multicultural cooperative learning to propose possible solutions.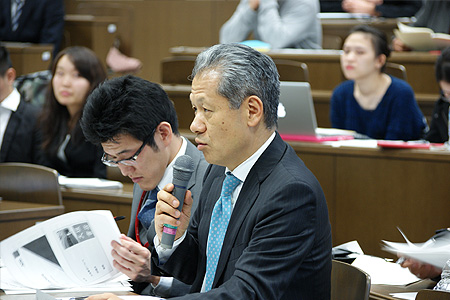 After receiving advice from the instructor and the other groups, and going through a process of peer evaluation, the three groups with the highest scoring proposals were identified. When Mr. OGAKI returned to APU on November 17, he provided comments to the three groups that used a mixture of in English and Japanese to present their solutions to him.
After this lecture, Mr. OGAKI said he was impressed at how all of the students had developed the ability to identify and analyze problems, the ability to generate ideas as a team, and presentation skills. He also said he would share the details of the presentations with his employees.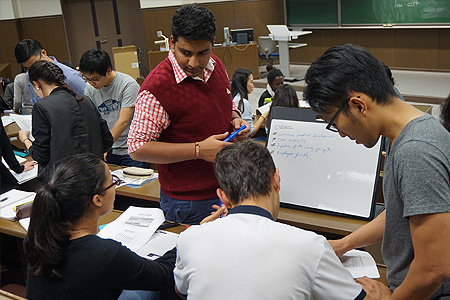 In the second half of the class, which began in December, the students will examine a business case from Kyushu Railway Company, a company involved in a wide range of businesses in addition to its core railway business. With the support of the guest lecturer, the students are sure to continue deepening their practical knowledge.