On Saturday, December 17 at Beppu City Hall, APU's Center for Language Education (CLE) and the Beppu Municipal Government jointly held a workshop called "Simple Japanese: Getting Your Point Across!" The workshop was attended by approximately 80 individuals in total that included 30 Japanese-language faculty members and 15 international students from CLE as well as volunteers from the Beppu City Multilingual Support Center and other citizens of Beppu.
The workshop began with an explanation by MORI Atsushi, Professor in the Faculty of Contemporary Human Life Science at Tezukayama University, on the necessity of "simple Japanese" consisting of a bare minimum of grammar and vocabulary. This necessity is based on the premise that because the native language of many of the foreigners who live in Japan is Chinese, Portuguese and so forth, there are cases where those foreigners have a better understanding of simple Japanese than they do of English. Professor MORI also asserted that the goal behind simple Japanese is not to force mastery of the Japanese language on foreigners alone, but to achieve a community in which Japanese individuals also come together with foreigners through means such as using pictures to explain things to foreigners and rephrasing things in easier-to-understand Japanese for them.
Following the lecture by Professor MORI, the workshop participants split into fifteen groups and engaged in the task of revising an official document into "simple Japanese." In addition to rewriting phrases of the original document, each group compiled their revisions on paper through a trial-and-error process that included assigning an appropriate title to the document and displaying the readings of kanji (Chinese) characters using furigana characters, after which they presented their revisions. The international students who took part in the workshop then voted on which revisions were easy to understand, and commented on areas such as what parts of each of the prepared presentations were easy to comprehend.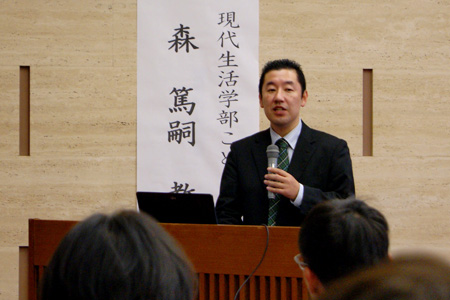 Workshop lecturer Professor MORI Atsushi from Tezukayama University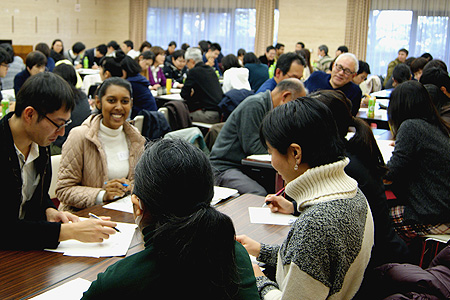 Workshop participants separating into groups and revising an official document into "simple Japanese"
Professor MORI commenting on the content of each group's presentation