On December 20, 2016, APU notified those students selected to study abroad on exchange programs in the 2017 fall semester. Exchange programs afford APU students the opportunity to study abroad at 143 partner universities in 47 countries and regions (as of October 2016) for one semester or one year.
Including those students who were conditionally approved, 95 students were selected to go on exchange, marking a record high in outgoing exchange student numbers for the second year running. In total, our students will head to 57 schools in 25 countries and one region this fall.
APU Hosts Study Abroad Fair Offering the Latest Information on Study Abroad
Last October, APU held a Study Abroad Fair with the assistance of students on exchange from our partner schools overseas (70 students from 38 schools in fall 2016) and APU students with previous study abroad experience at our partner schools. At the fair, 132 individuals manned booths for 66 universities. There, students interested in studying at particular partner schools were able to access information directly from students on exchange from those schools as well as APU students with previous study abroad experience at those schools. Not to mention, they were able to gain information on partner schools they may not have been interested in previously.
A scene from the Study Abroad Fair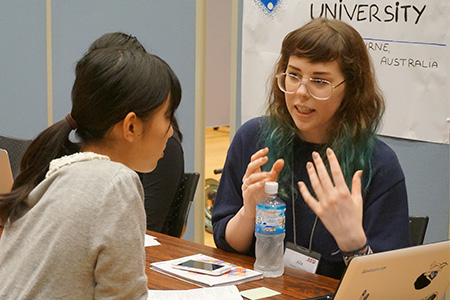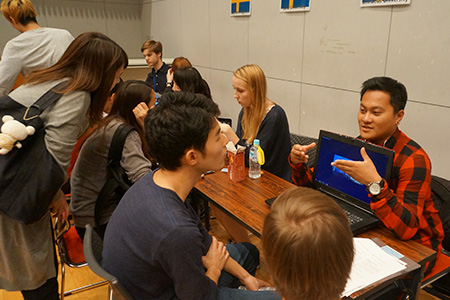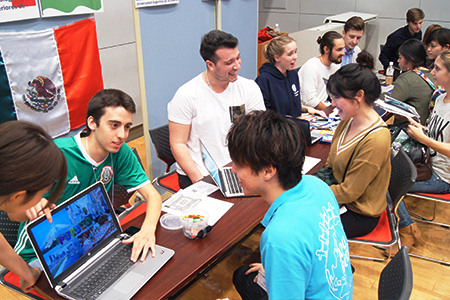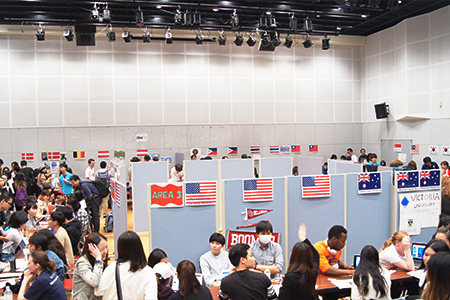 APU regularly hosts study-abroad guidance and related events on campus to promote participation in exchange programs and other learning programs overseas.
Click here for more information on APU's study abroad and overseas learning opportunities.
As of May 1, 2016, APU has concluded agreements with 454 universities and research institutions in 71 countries and regions around the world. Click here(PDF link) to see a full list of our partner universities and institutions.