The APU 2017 Spring Graduation Ceremony was held on Friday, March 17, 2017. This semester's graduating class has a total of 800 students, consisting of 579 domestic students and 221 international students from 33 countries and regions. Graduates included undergraduate, Masters, and PhD students. Friends and family members from around the world gathered at B-Con Plaza in Beppu to celebrate the graduating students as they prepare to take what they have learned at APU to the next stage of their lives.
APU President KORENAGA Shun congratulated the graduates and offered words of encouragement. "The short four years of life we spend at university, a place that opens up new doors and also furnishes the time and space for that to happen, is a valuable experience that bestows a decisive effect on each life. For those who made it through these four years with no regrets – and also for those whose four years may leave them with a regret or two – living the student life at APU is a powerful springboard that will launch all of you towards the next stage in your lives."
(President Korenaga's full comments can be found here.)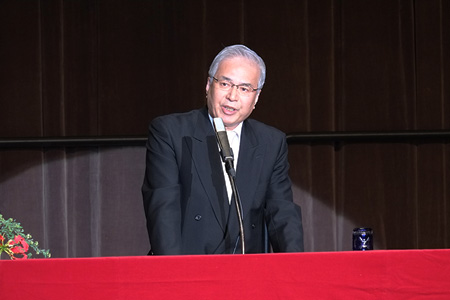 AKAO Noriaki (College of International Management, Japan), recipient of this year's ANDO Momofuku Honor Prize, represented the College of International Management in thanking and honoring the graduates: "Looking back on my student life, I find that the best thing about it was that I was able to develop awareness of the problem of inequality in the world, and actually go and witness that inequality with my own eyes. APU served to naturally open up my horizons towards the world. [...] I learned that by accepting and respecting each other, our world will become a broader and more exciting place. Gradually accepting the elements that differing backgrounds bring forth, such as varying values, dreams and ways of thinking, drew out the possibilities of my fellow students and myself and made us grow. I imagine that the APU students here today are aware of how important that is.
"As of today, we will be graduates of APU. However, applying what we have learned at this university will undoubtedly begin from this point onward. I believe that the real mark of an APU graduate is the ability to maintain a spirit of tolerance towards this diverse society of ours and individually play a successful role with one's own way of doing things. I am sure that no shortage of difficulties awaits us in the future as well. However, I have no doubt that the friends we have made at APU, who will proceed to make their way out in the world, will be there to support us no matter when. That is why I want you to remember that none of us are never alone. Let us continue to take on challenges and take the world by storm!"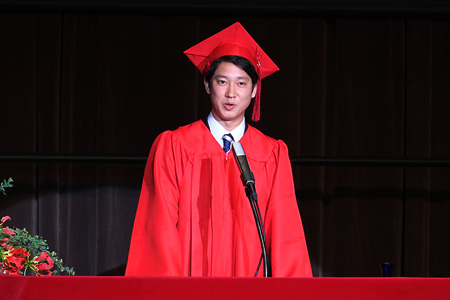 Then the student representative for the Graduate School, GARAY Vargas Victoria Andrea (Chile) gave a few words: "On a personal note, making the decision to come to APU wasn't easy, and I'm not just talking about the 37 hour flight all the way from Chile in South America to Japan. I had to quit my job and leave behind family and friends. Nonetheless, I believe coming to APU was the best decision I've ever made, and it has changed my future.
"Today, we can say with confidence that this journey has prepared us to face the world with more experienced and matured in both personal and professional aspects. [...] I want to congratulate you for being brave enough to leave the comfort of your own home, to seek new opportunities and conquer new challenges. [...] Last but not least, I would like to thank Japan for giving us this magnificent experience by opening their doors."
All of the graduates then gathered together to toss their red caps in the air to the chant of "We are APU," which was met with thunderous applause. The graduates left the ceremony in a joyous rush—each one eager to start out on their new life journey.
Spring 2017 Degrees Conferred

Domestic Students
International Students
Total
College of Asia Pacific Studies (APS)
366
63
429
College of International Management (APM)
213
131
344
College Total
579
194
773
Graduate School of Asia Pacific Studies Master's Program(GSAM)
0
9
9
Graduate School of Management(MBA)
0
15
15
Graduate School of Asia Pacific Studies Doctoral Program(GSAD)
0
3
3
Graduate School Total
0
27
27
Total
579
221
800
The graduation ceremony was also broadcast live on the internet via Ustream. Footage can be viewed here.
APU Gallery
https://en.apu.ac.jp/home/gallery/article/?storyid=189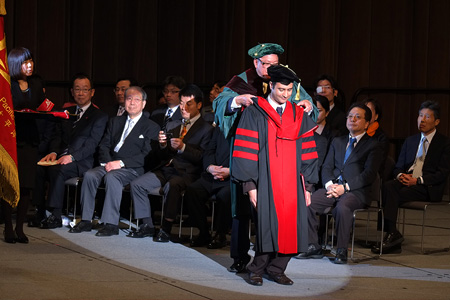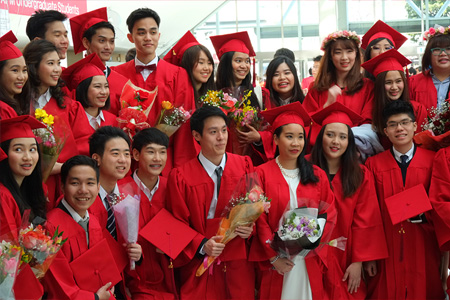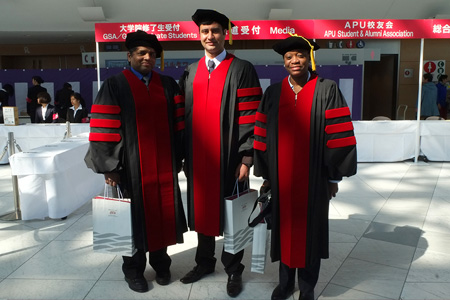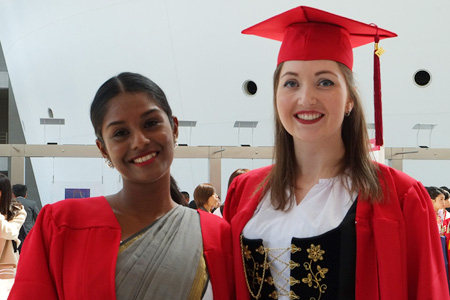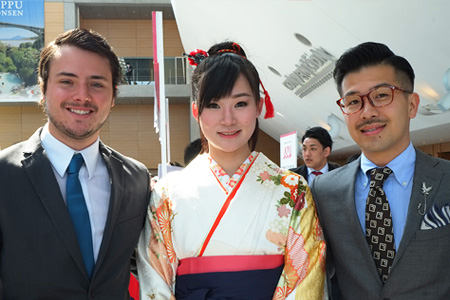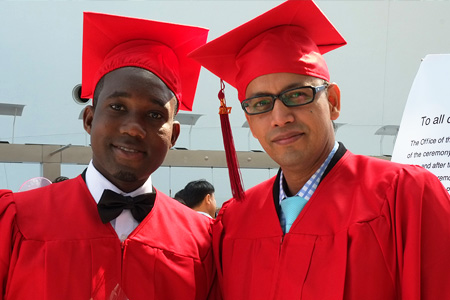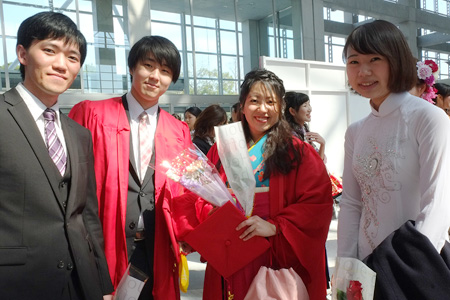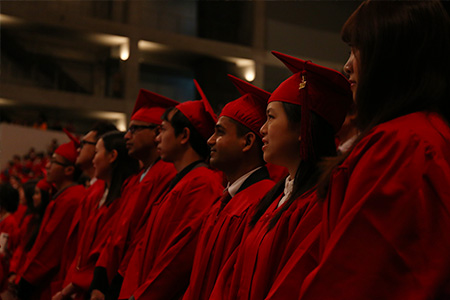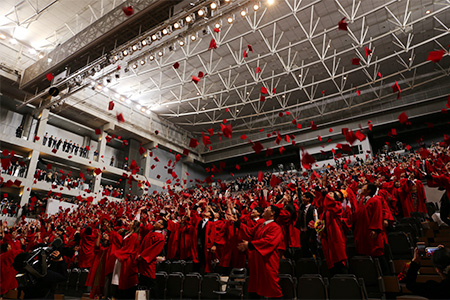 Related Link:

Notes from the President and Vice-Presidents