On Monday, April 3, 2017, AP House held the Spring Semester Welcome Ceremony at APU's Millennium Hall, welcoming about 600 students from 30 different countries and regions. Faculty and staff joined 62 Resident Assistants in welcoming the new residents. Resident Assistants, or RAs, provide various support to students living in the dormitory.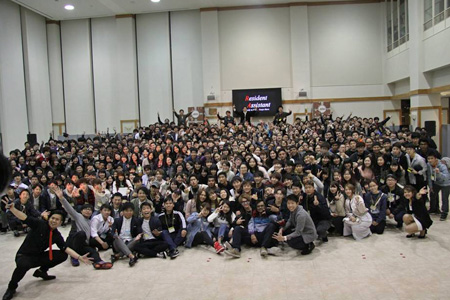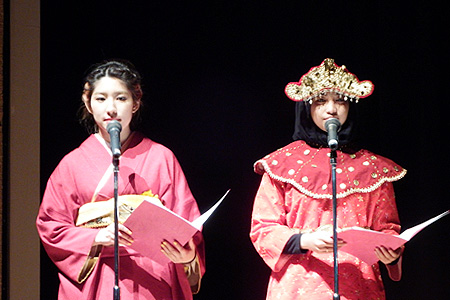 In general, all international students spend their first year living alongside domestic students in the AP House dormitory, located next to the university campus. With an international to domestic student ratio of 6:4, the AP House student dormitory houses approximately 1,200 students in 378 shared rooms and 932 private rooms. For residents, AP House is more than just a place to live – it is a community where students can deepen their understanding of different cultures, and for international students it is a place where they can improve their Japanese as they become accustomed to daily life and customs of Japan. For more information about the dormitory, see AP House (On-campus housing).
During the ceremony HIRAIWA Shino (College of Asia Pacific Studies, 1st year, Japan) gave a short speech on behalf of the new residents about what he hoped to gain as he embarked on his new life, and DYAH Ayu Karina Dwiastuti (College of Asia Pacific Studies, 3rd year, Indonesia) addressed the students on behalf of the RAs, "Treasure the time you have here as there will be a lot of opportunities waiting for you at hand. Be humble and respect others, the way you wish others to respect you too. Make a lot of friends from all over the world and extend your connection, as you will learn how international networking will be as important as your degree. In the times when you face any difficulties or problems, we the RAs will always be ready to assist you. We will be the helping hand in the times you need. Do not be afraid to ask any questions as the 62 of us will be more than happy to answer them." The students were then shown a video produced by the RAs, introducing the rules and regulations of AP House.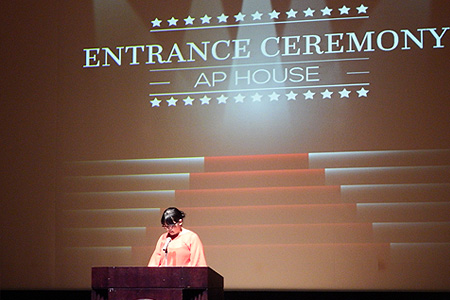 Following the ceremony was a welcome dinner at the APU Cafeteria, where students were welcomed by a dance performance and self-introductions by each of the RAs.