On Wednesday, April 19, 2017, APU's RCMA* held its fourth special seminar. These special seminars are held for companies and local government bodies from both within and outside Oita Prefecture as well as for people with an interest in Muslim-related topics, providing an introduction of basic knowledge regarding Muslims, the development of halal foods, and potential markets for those foods. This seminar welcomed Representative Director and President
KUSUMOTO Teiai and Managing Director SOHN Teirei of Kitayama Nanzan, a wagyu beef barbeque establishment in Kyoto, as guest lecturers introducing leading examples of markets based on the theme "Potential of Food & Drink Market Brought by Halal Wagyu Beef." Approximately 45 persons participated in the seminar, including company representatives and individuals with local government bodies, as well as members of the general public.
Ms. KUSUMOTO and Ms. SOHN commented, "Our motivation for offering halal stemmed from our desire to allow people from all over the world to enjoy wagyu beef when they come to visit our hometown of Kyoto. Doing this has led to an increase in the trust that our customers have in us today, as well as an increase in the number of repeat customers that we now enjoy." The lecture also covered a wide range of topics including future prospects for halal wagyu beef.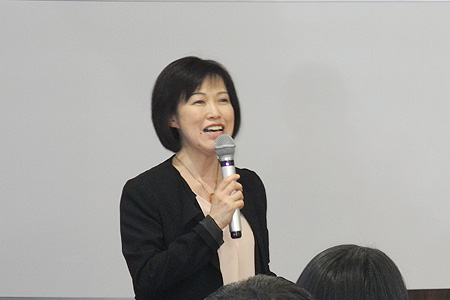 *RCMA: The Research Center for Muslim Affairs is a research center affiliated with the Ritsumeikan Center for Asian Pacific Studies (RCAPS). It specializes in research on the nature of multicultural co-existence through the exploration of models that can also serve to contribute to regional revitalization.
Information on RCMA events can be found at https://en.apu.ac.jp/rcaps/rcrcmc/news.html/