On Wednesday, June 7, 2017, IMAI Noriaki, an APU graduate and the Chairman of DxP, gave a lecture to APU students. An authorized NPO based in the Kansai region, DxP operates a career educational business specializing in students attending correspondence and part-time high schools. Currently, one third of the part-time high schools in Osaka have incorporated DxP programs. This lecture was brought about by DxP's participation in the APU GAIA¹ (Global Internship with Alumni) contract internship program which conducts internships with alumni acting as visible role models.
Speaking on the topic of "Creating a Society Where All Young People Can Have Hope for the Future Through Social Business", Mr. Imai discussed his personal history, from his student days up to his current position, also explaining what DxP does and how it is operated. The students listened intently as they learned that the programs are not only supported by DxP staff but also by many volunteer staff including working adults and teachers. "In the beginning, it starts from one person," said Mr. Imai. "Before you know it, there are over 10,000. Even if you are doing something that is unprecedented, taking on a challenge will attract people who sympathize with your goal."
During the Q&A session after the lecture, one participant asked, "As a leader, how do you handle a situation where your vision differs from that of others?" Mr. Imai replied, "There is no right answer. You have to strive to create a process to think about that vision together with the team members."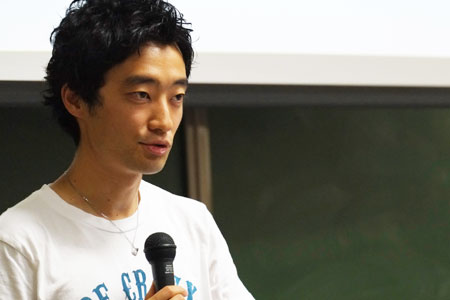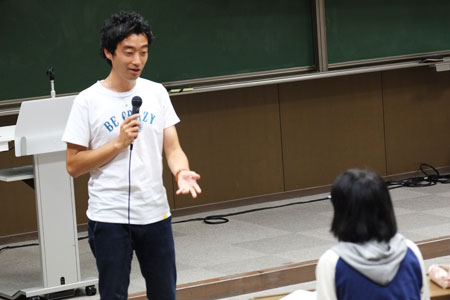 On Friday, June 8 of the same week, APU graduate and producer of the social startup accelerator program SUSANOO operated by the NPO ETIC., Mr. WATANABE Kentaro gave a lecture at a Social Outreach Seminar².
Mr. Watanabe used actual examples of social entrepreneurship to explain the content of the program, which uses networking with senior entrepreneurs, the government, and the media to support the growth of initiatives that use unprecedented innovation to change the world and people's lives, as well as the differences between social entrepreneurship and commercial enterprises.
At the end of the lecture, he encouraged the students by saying, "It's important to aim for something that you want to realize and cherish from the bottom of your heart instead of thinking that you want to do something good. Think about what you want to do and what value that will produce for the world."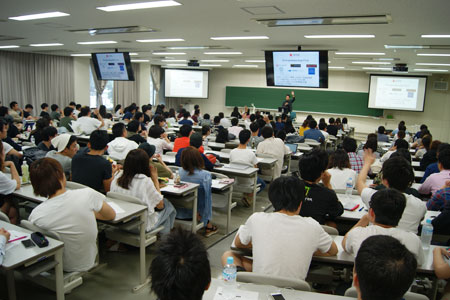 1. GAIA (Global Internship with Alumni) provides internships with foreign and Japanese companies and organizations such as DxP where APU graduates are actively working. To date, five students have participated in a variety of internships with organizations such as at the Embassy of the Maldives, the IkuZo! center in Indonesia which teaches Japanese language and culture through comics, and a Fukuoka-based company called Girls, be Ambitious that sells fair trade products made in the Philippines.
2. Social Outreach Seminars invite corporate executives and business people to give lectures to students, providing these students with an opportunity to gain wisdom that will help them in society overall as well as with their studies and research.