On Monday, June 19, 2017, a Social Outreach Seminar* entitled "Preparing for a Career in an International Organization" was held at the Oita International Student Business Center in Beppu for people interested in working for an international organization. The seminar, which was open to people from outside of APU as well, aimed to provide information on the kinds of positions available in international organizations and afford the participants with an opportunity to think about what a career in an international organization would be like.
Mr. FUKUHARA Koji, a foreign affairs officer from the Recruitment Center For International Organizations in the Foreign Policy Bureau of the Ministry of Foreign Affairs was invited to Beppu, and Mr. Morse Caoagas FLORES (College of Asia Pacific Studies, Spring 2006, Philippines), a human rights officer for the Office of the United Nations High Commissioner for Human Rights (OHCHR), joined the session via Skype from Geneva, Switzerland.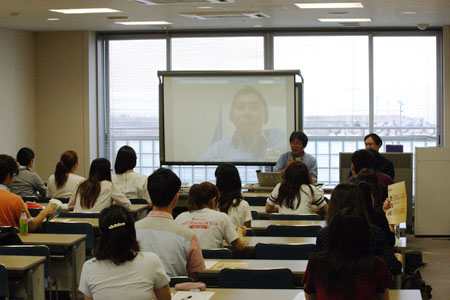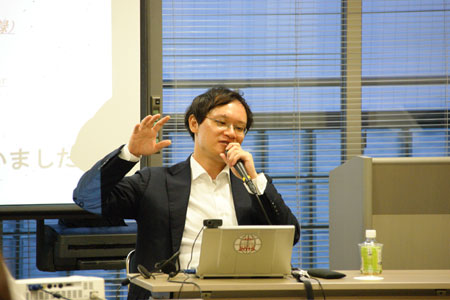 Associate Professor SUDO Tomonori of the College of Asia Pacific Studies moderated the seminar which began with Mr. FUKUHARA explaining the significance and roles of the United Nations and other international organizations, what makes careers in international organizations rewarding, and how they recruit employees. He also mentioned that the number of Japanese employees in international organizations is extremely low. Next, Mr. FLORES discussed the career path that led him to the United Nations and talked about his current duties.
Approximately 50 people attended the session, including APU students, students from other universities, and members of the local community. In the survey conducted after the seminar, one participant said, "I want to work for an international organization, so this session provided me with information on the various career paths, including the Ministry's Junior Professional Officer program." Another participant said, "This was the first time I heard that you need at least a master's degree to work for the United Nations." Yet another participant commented, "Now I know what I need to do to prepare for a career in an international organization."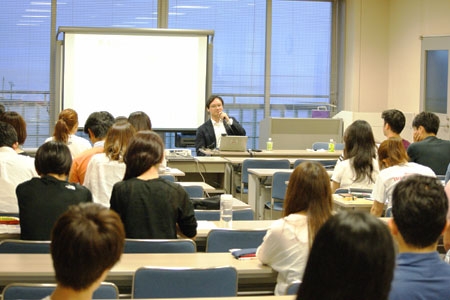 * Since 2010, APU has been inviting guest lecturers from a wide range of fields to speak at Social Outreach Seminars in an effort to contribute to students' learning and research.