On July 24, 2017, APU entered into a cooperation agreement with Japan Airlines (JAL) and Beppu City. A signing ceremony was held at Beppu City Hall, with Beppu Mayor NAGANO Yasuhiro and JAL Kyushu/Yamaguchi Regional Manager MIZONOUE Masamitsu in attendance along with APU Vice President IMAMURA Masaharu.
The agreement involves exchange and utilization of material, human, and intellectual resources, with the parties cooperating in the three core areas of "attracting foreign tourists," "promoting sports and hosting training camps," and "promoting food and produce." The agreement will see the three parties working in concert to proactively communicate the attractions of Beppu City to audiences beyond Japan, with the aim of boosting inbound international tourism and contributing to growth in non-resident population.
Under this new partnership with JAL and Beppu City, APU plans to pursue initiatives that will benefit education and research and help revitalize the local community as a whole.
Overview of the Cooperation Agreement
1. Tourism and attracting inbound tourists
Potential initiatives include the cooperation of APU students in the production of media content such as municipal promotion videos to be shown on JAL international flights, or the provision of support by JAL for familiarization tours for travel and tourism operators to boost inbound international tourism to Beppu and APU.
2. Promoting sports and hosting training camps
Potential initiatives include continuation of current joint training camps for APU Rugby Club and JAL and collaboration of APU students with a children's rugby tournament being planned by JAL for local children.1
3. Promoting food and produce
Potential initiatives include involving APU faculty members and students in the brand development of rice produced in the historic terraces of the Uchinari district2 in Oita Prefecture, which has been used in meals in First Class on JAL domestic flights.
4. Other matters of mutual benefit
In addition to the above three areas, this agreement may include other initiatives that will prove beneficial to the three parties.
Notes:
1. Oita Prefecture has been confirmed as one of the match venues for the Rugby World Cup to be held in Japan in 2019.
2. The Uchinari district of Beppu City, Oita Prefecture, has been selected as one of Japan's top 100 rice terrace districts (rice terrace = rice cultivation field situated on inclined land).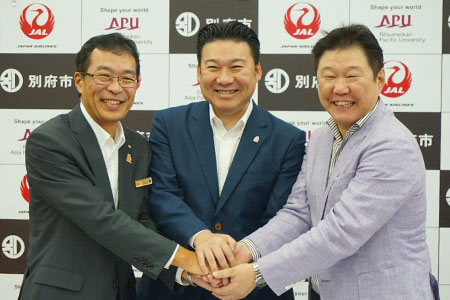 Pictured, from left:
JAL Kyushu/Yamaguchi Regional Manager Mizonoue Masamitsu,
Beppu Mayor Nagano Yasuhiro,
APU Vice President Imamura Masaharu