On October 30, 2017, the Japan Foundation* Japanese-Language Institute conducted a session of the Intensive Training Program for Counterpart Teachers of the "NIHONGO Partners" at APU.
Through the NIHONGO Partners program, The Japan Foundation aims to promote cultural exchange between Japan and other countries in Asia. One half of the program sends Japanese nationals to educational institutions across Asia as "NIHONGO Partners." The other half, "Intensive Training Program for Counterpart Teachers of the 'Nihongo Partners,'" invites Japanese-language teachers from NIHONGO partners hosting institutions to Japan for a two week training program.
In October 2017, 24 Japanese language teachers from Indonesia came to heighten their practical Japanese skills and deepen their understanding of Japanese society and culture.
The majority of sessions took place at the Japan Foundation Japanese-language Institute in Saitama City, Saitama Prefecture. From October 27 to 30, the Japanese government arranged for participants to visit Oita Prefecture as a part of regional revitalization efforts. APU hosted a session on October 30.
Prior to their arrival in Japan, participants collected what their students wanted to know about Japan. At APU, they shared their findings. Afterward, everyone discussed what had surprised, interested, amazed, and disappointed them while staying in Japan.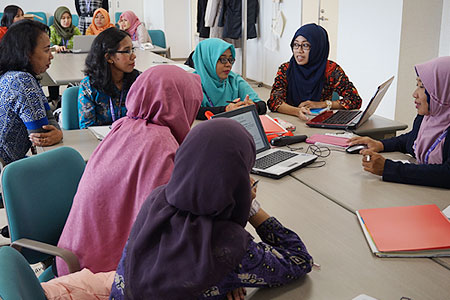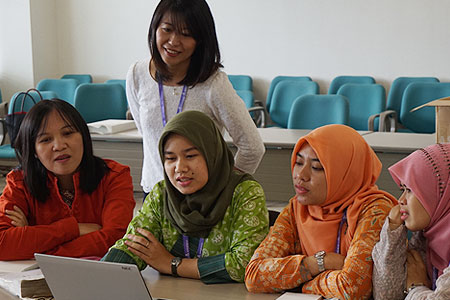 Participants also had the opportunity to meet with APU students. Indonesian teachers asked what the students were studying, what it was like working a part time job in Japan, how much the average rent was in the area, and other questions. Students then took the teachers on a guided tour of campus.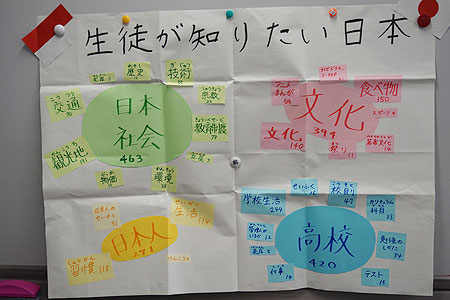 Prior to arriving in Japan, participants found out what their students wanted know about Japan.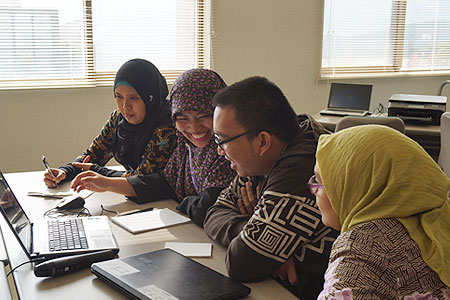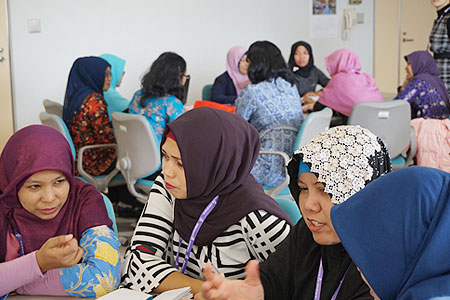 In September of this year, two APU students went to intermediate schools in Indonesia as NIHONGO partners. In August 2018, nine more APU students designated as NIHONGO partners will go to Indonesia. Prior to departure, students will attend a one month training session from February to March of 2018 at APU.
NIHONGO partners are selected from applicants all over Japan. Approximately 75 partners will come to APU to study Japanese-language teaching methods and learn more about living in the areas they will visit, such as the local language and culture.
APU strongly recommends students participate in NIHONGO partners, and has established a system to grant academic credits to students that choose to participate.
The NIHONGO Partners program supports international teachers of Japanese, while at the same time giving Japanese nationals the chance to study the language and cultures of other countries and regions in Asia. This program is one of the many bridges that APU students are building between Japan and the Asia-Pacific region.
*The Japan Foundation is an incorporated administrative agency created by the Japanese government. Its goal is to deepen the understanding of Japan in foreign countries, as well as further mutual international understanding.