The first class of the "Special Lecture: Capstone"* course for fourth-year students in the fall of 2017 included a lecture by Hiroshi Okuyama, Divisional Manager of the Corporate Planning and Marketing divisions at Yanmar Holdings Co., Ltd., a company involved in research and development, manufacturing, and sales of a wide range of industrial machinery (including food production, energy conversion, marine engines, etc.). Mr. Okuyama spoke about Yanmar's businesses and the current state of the sectors within which the company operates.
Class participants then divided into small groups of about five members. These groups consisted of students from APU's English and Japanese-basis curricula and were from a wide range of countries and regions. While utilizing the viewpoints and skills gained as part of the multicultural cooperative learning offered by the university, the groups collaborated to comprehensively research and analyze initiatives undertaken by Yanmar, identifying challenges and proposing corresponding solutions.
On November 30, Mr. Okuyama was invited to APU again to see presentations given in Japanese and English by the three groups whose proposed solutions received the highest evaluation after feedback and input from the course instructor and other groups. The presentations were followed by a lively Q&A session in which the presenters responded to questions from Mr. Okuyama and other class participants.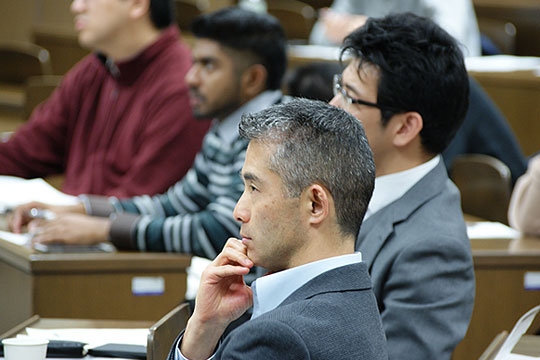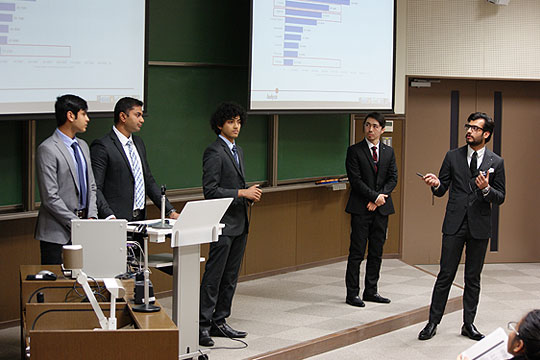 Following the presentations, Mr. Okuyama had this to say about the presentations: "Although the students lack business experience, their analyses were deep and reflected broad viewpoints. They summarized their final proposals in concrete terms, and demonstrated they have acquired the ability to communicate such proposals to others." Shunsuke Hirai of the Human Resources Division at Yanmar Holdings Co., Ltd., who also attended the presentations, added: "I felt the content presented by the APU students was of a high level compared with other universities. They demonstrated the ability to analyze current conditions and think logically to arrive at proposals for improvements."
The "Special Lecture: Capstone" course covers case studies for two companies, dedicating one half of the course to each company. The two case studies covered this year come from Yanmar Holdings Co., Ltd. in the first half of the subject (starting from October) and Sony Corporation in the second half (beginning in December). While receiving lectures from other companies and extra forms of support, class participants further the practice-oriented learning conducted by the College of International Management.
* Capstone classes represent the culmination of four years of learning in the College of International Management, promoting group learning and project management.