First announced in June 2017, the ANA InterContinental Beppu Resort & Spa is scheduled to open in 2019 in the district of Myoban in Beppu City, near the APU campus.
After attending a groundbreaking ceremony on January 11, Hans HEIJLIGERS, CEO of InterContinental Hotels Group (IHG) ANA; ASADA Shunichi, President, CEO, and Representative Director of Tokyo Century Corporation; KONDO Satoru, President of GHS, K.K.; and NAGANO Yasuhiro, Mayor of Beppu City visited APU to meet with university representatives including Vice President IMAMURA Masaharu and Liaison Director MAKITA Masahiro.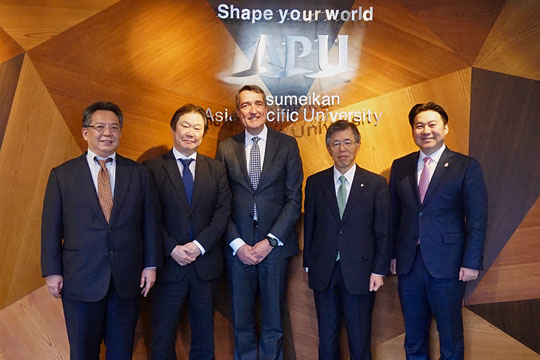 Many potential areas of cooperation were discussed during this meeting, including internships for APU students, practical on-site training in both domestic and overseas hotels, and opportunities for future educational and research collaboration. At the conclusion of the meeting, the representatives for the ANA InterContinental Beppu Resort & Spa expressed how impressed they were with the diversity and potential found in the APU student body, and stated that they looked forward to developing mutually beneficial ties between APU and the ANA InterContinental Beppu Resort & Spa as well as other hotels under the IHG umbrella.
"With students from all over the world, APU possesses talent and diversity that few other universities in Japan can compete with," commented Vice President Imamura. "I am sure this relationship will lead to many positive opportunities for our students and other members of the community."