教育プログラム|講演・シンポジウム
Jul 9, 2018
On June 27, LGBT rights activist Hiroko Masuhara gave a guest lecture to students in the Honors Program for Global Citizenship. Masuhara is Representative Director of Trois Couleurs, an organization that works for LGBT rights. About 30 honors students attended her talk, "Diversity & Inclusion support - LGBT -," delving into a discussion session after the lecture.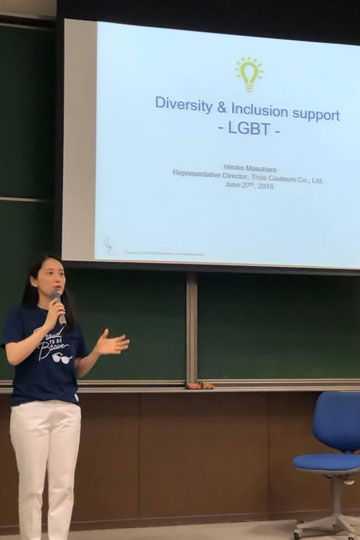 During the lecture, Masuhara spoke on the problems LGBT individuals face, saying "At the age of 10, I noticed that I liked other girls, but for the next 12 years I suffered because I couldn't talk to anybody about it." She also said that while studying abroad in Paris, she experienced an environment that accepted openly gay individuals, and talked about the activism necessary to bring Japanese society to that same point. Masuhara mentioned that in 72 countries and regions, homosexuality is illegal. She also discussed the current state of the LGBT community in Japan, saying, "There are no antidiscrimination laws, either at school or in the workplace. Trans individuals can change their gender, but the requirements are very cruel."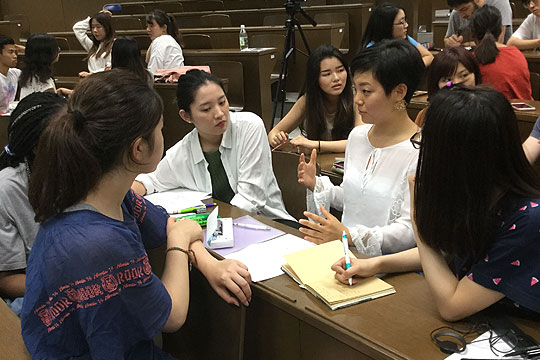 Masuhara continued the talk by giving examples of "SOGI Hara," or Sexual Orientation and Gender Identity harassment, then opened a discussion session by posing the question, "How would you make APU into a safe environment?"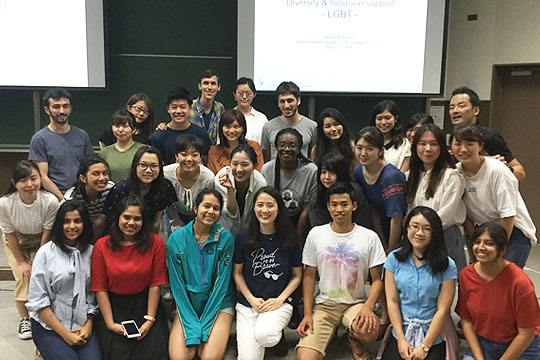 In her closing remarks, Masuhara quoted something she heard from APU President Deguchi: "There are 7 billion people on this Earth, and everyone is different." She pointed out the shirt she was wearing, emblazoned with "Proud to be Brave" on the front. Her message to the students: "I hope people will enjoy their differences, and the importance of succeeding in the world in your own way."
The Honors Program for Global Citizenship cultivates students to be a model for others in the APU community. They are also expected to contribute to the local region. The program has other projects scheduled to take place throughout the academic year. For more information, you can click here.