On June 8, four domestic APU graduates who use English in their careers held discussions with students in English language classes at APU. They discussed how they enhanced their English language skills, how they selected the company they work for, what their current job entails, as well as the enjoyment and difficulty of using English in the workplace. The alumni also took time to answer students' questions. These discussions motivated and inspired the audience of domestic students, who are in the process of developing their English language skills.
The graduates who participated in the talk were:
Rika Miyatani (APM '12)
Yasuno Ishii (APS '13)
Junya Tanaka (APM '14)
Saya Kondo (APM '15)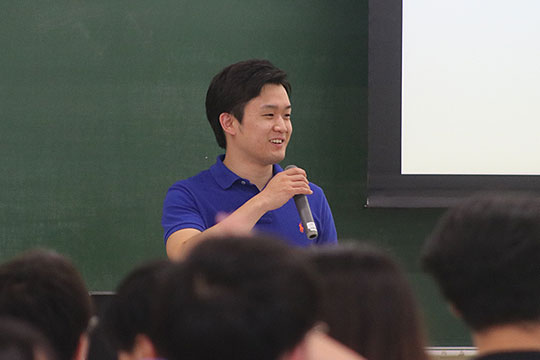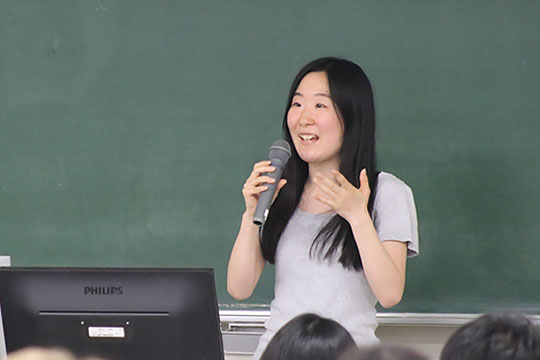 Rika Miyatani works as an Area Manager in Singapore. She told the audience "when I matriculated at APU, my English was at a beginner level. In my four years at school, there were times when my motivation dropped. In those moments, I would remember why I came to APU, and push myself to make the most out of this special place. I used to work at my current employer's Tokyo office until they opened a branch in Singapore. I had an urge to go and seize the opportunity. I wanted to give it my best shot.
Yasuno Ishii manages a bed and breakfast that caters to foreign tourists. He said, "We welcome guests from places all over the world, and I always make it a point to open up and communicate with them, and make sure they return home with a deep sense of satisfaction. That's something I learned at APU. APU's multicultural environment nourishes respect and consideration for others."
"I didn't like studying that much," said Junya Tanaka, who works for a foreign pharmaceutical company, "but I went to Thailand and saw the gleam in the eyes of the children studying there. They inspired me, and I redoubled my studies at APU. It doesn't matter what level you start at, so long as you know what you want to become, and keep up that motivation…nobody knows the future, so you can be optimistic."
Saya Kondo spoke about their current position in Nikkei's human resources consulting business, telling the students "the most hectic time I had at APU was when I applied for an exchange program with an American university. I was selected to go to the United States, and encountered the difficulties of studying with American students. Eventually, I joined a Japanese company. We don't currently use English in the workplace, but society is rapidly changing. There will probably come a time when we need to use English. That's why I think it's necessary to strengthen your English ability."
These lectures are part of the GOAL program. GOAL, or Global Alumni Lecture, is a program where graduates from all over the world are connected with students on the APU campus to share the knowledge and experience gained throughout their careers. Through both regular curriculum courses and extra-curricular events, the program highlights graduates who are playing active roles in the world. The program encourages students to think about how learning at APU connects to their careers after graduation It also supports students as they develop their career interests, and increases their motivation for learning while in school.
APU graduates who are playing an active role around the world are valuable assets to the APU community. The University will continue to provide and enhance activities that connect graduates, students, and faculty from all over the world.