On July 11, a motivated group of awardees and their peers attended the Spring 2018 Award and Scholarship Conferral Ceremony.
President Haruaki Deguchi started the ceremony by exhorting the students and their achievements. He presented an award certificate for the Ando Momofuku Honor Prize to its distinguished recipient, and gave the Ando Momofuku Award certificate to a representative from this semester's group of winners. After this, the Dean of the College of Asia Pacific Studies (APS) Yan Li and Dean of the College of International Management (APM) Toshitsugu Otake presented certificates to student representatives from their respective colleges for the Academic Merit Scholarship and Academic Merit Certificate before congratulating them on their achievements.
Vice-President Yokoyama then presented a certificate to the recipient of the Yokoyama English Award. Dean of Student Affairs Kumi Seike followed by presenting awards for group and individual recipients of the Incentive Scholarship and Certificate for Self-motivated Students and Organizations, followed by recipients of the Self-motivated Students Scholarship.
AY2018 Spring Scholarship Winners
ANDO Momofuku Honor Prize
This scholarship was founded through the generosity of the late Honorary Doctor Momofuku Ando, the founder of the Nissin Foods Holdings Co., Ltd. The Honor Prize encourages and supports students aspiring to become future leaders of the Asia Pacific region.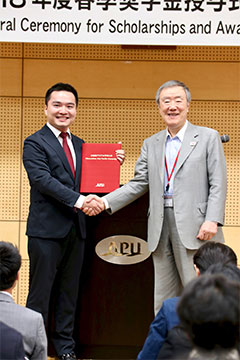 ANDO Momofuku Award
| | | | |
| --- | --- | --- | --- |
| APS3 | Takemasa Oyama | APM3 | Rina Pokharel |
| APS5 | Hiromi Matsumoto | APM5 | Shah I. Hossain |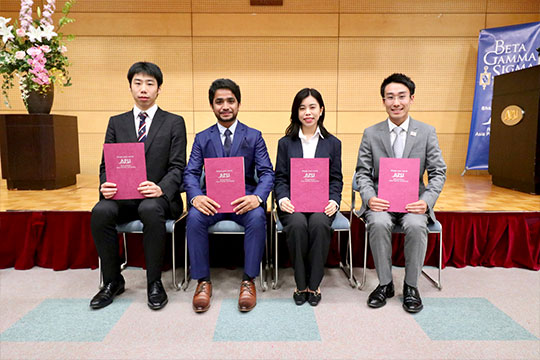 Yokoyama English Award
This scholarship was established through a generous endowment by Professor Kenji Yokoyama, Vice-President of APU, with the aim of encouraging Japanese-basis students to strive to improve their English ability in their first year, to encourage these students to discover the many different ways it is possible to learn at this university, and to develop talented individuals who will be internationally successful in the future.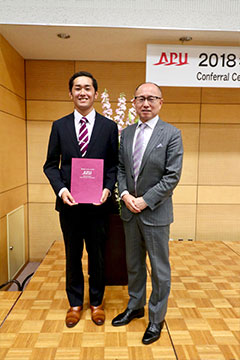 Incentive Scholarship for Self-motivated Students
The aim of the Incentive Scholarship for Self-motivated Students is to encourage and support individuals or groups who have demonstrated exceptional performance in their self-motivated or extracurricular activities, and have established higher and achievable goals for the future.
| | |
| --- | --- |
| Arauma Chiyo | BHABISHYA AND JAMARKO FOR NEPAL |
| PRENGO | Yossha-Koi |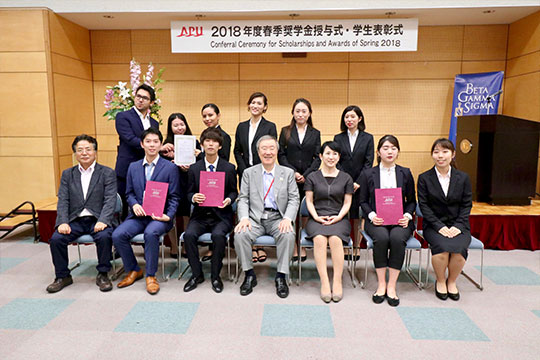 Academic Merit Scholarship
This scholarship is to encourage students who have achieved excellent academic results during the 2017 Fall semester.
| | | | |
| --- | --- | --- | --- |
| APS3 | Claire Chia-Chen Liu | APS4 | Ha Minh Anh Nguyen |
| APS4 | Mai Chi Nguyen | APS4 | Nguyen Son Tra Mai |
| APS5 | Minsu Koo | APS6 | Jun Wang |
| APS7 | Talisca A.Natasha | APM3 | Sangho Kim |
| APM3 | M. Thanarakchok | APM4 | Jiayue Yu |
| APM4 | Lidan Zhou | APM4 | Xinyi Zhao |
| APM4 | Pingan Ge | APM4 | Rong Pan |
| APM4 | Chenxi Li | APM4 | Zhenchi Jiang |
| APM5 | Jiwoo Kang | APM6 | Hafiz F. Muhammad |
| APM6 | Ngan Kieu Nguyen | APM7 | Rubaiyyat Rafi |
Academic Merit Certificate
This certificate is to recognize students who rank second or third place according to their academic results during the 2017 Fall semester.
| | | | |
| --- | --- | --- | --- |
| APS3 | Kaori Segawa | APS3 | Eje Jeong |
| APS3 | Soyeon Lee | APS5 | Haruna Oe |
| APS5 | Miki Yamanaka | APS6 | Tianru Chu |
| APS6 | M. Kalyanasundaram | APS6 | Yoshiki Ishiuchi |
| APS7 | Mahiro Hata | APM3 | Noah Ethan Jago |
| APM5 | Huyen Trang Tran | APM5 | Shohei Kaneko |
| APM6 | Utami B. Nabilla | APM6 | Xiaoying Wang |
| APM6 | Phu Chau Pham | APM6 | Uyen Phuong Huynh |
| APM6 | Tieu Bang Luong | APM6 | Jennifer |
| APM7 | N. Prechachaisurut | APM7 | N. Santimahakullert |