TOKYO - Ritsumeikan Asia Pacific University (APU) won the championship in the finals competition round of the Chartered Financial Analysts (CFA) Research Challenge 2018 held at the corporate offices of SMBC Securities Shin Marunouchi Building December 8, 2018.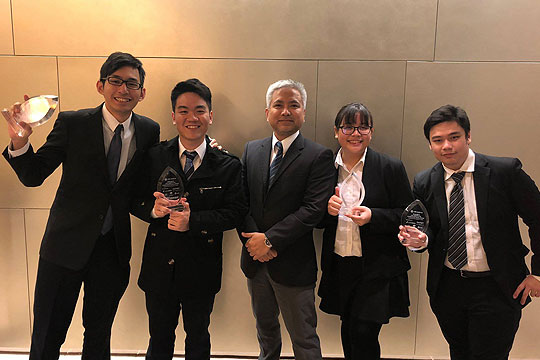 The undergraduate team composed of team captain Phu Pham Hoang (4th year, Vietnam), Jason Sujaya (4th year, Indonesia), Esther Lo An Chee (3rd year, Malaysia) and Muhammad Hafiz (4th year, Indonesia), competed among 5 other business schools in the annual Tokyo competition after successfully passing the preliminary written competition. The team was mentored by CFA professional Kazuhiko Sasamoto from Nissay Asset Management and coached by Professor Michael Angelo Cortez from Ritsumeikan Asia Pacific University.
The APU team submitted their initial draft report in September, the final draft in October, and qualified for the finals round in November after a rigorous grading system by at least 10 CFA professionals. Presentation training sessions were conducted by APU professors Phillip Dean Pardo, Hiroto Sato, and Michael Phillips. Logistical and technical support were provided by APU graduate student Mohamed Ikram Mohamed Ihthisham.
Now in its 11th year, CFA Research Challenge Japan is a publicly listed company valuation competition where teams of business school students both undergraduate and graduate from all over the country conduct research on a select company. The teams underwent IT research and ethics training from the CFA Research Society of Japan, met the subject company, and participated in investor relations sessions. From this, the team came up with a market valuation of buy, hold, or sell.
This year's subject company is Toto Ltd., Japan's leading sanitary wares manufacturing company. Previous year's companies include Yamaha Corporation, Aladdin Inc., and Sanrio Ltd. The Ritsumeikan APU presented a buy proposition supported by Toto's innovation, sales networks and strong brand position. Financial analysis and projection were performed with Discounted Cash Flows Analysis, Dividend Discount Model and Multiples analysis. APU's pioneering research on brand value brought home the grand prize.
Among the teams competing in the finals were the Waseda Graduate School of Business, Aoyama University, Soka University, and two teams from Hitsobashi University. This is the sixth year APU has participated in the CFA Research Challenge, and the first time for APU to make it to the finals round as well as the first time to win the country round.
Executives from the CFA Research Society applaud the win and wishes the APU team the best of luck in representing Japan in future stages of the challenge. As winner of the country round, APU will represent Japan in the Asia-Pacific Regional finals to be held in Sydney, Australia on March 28-29, 2019.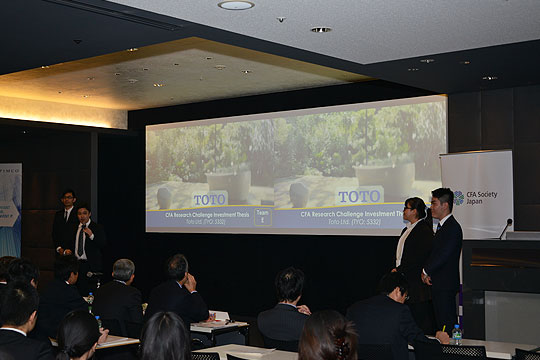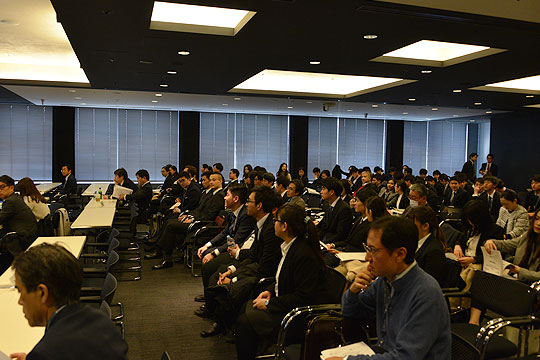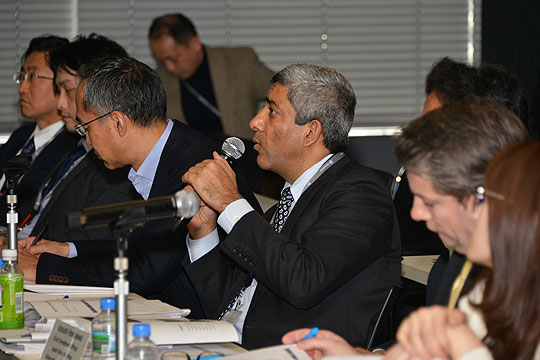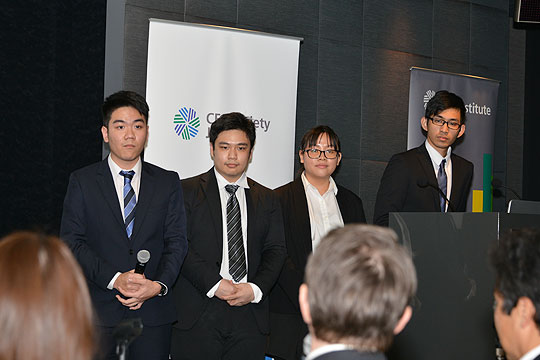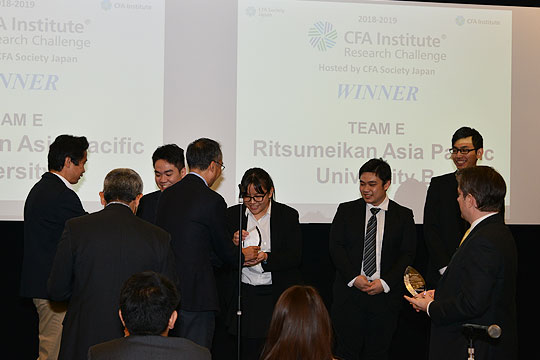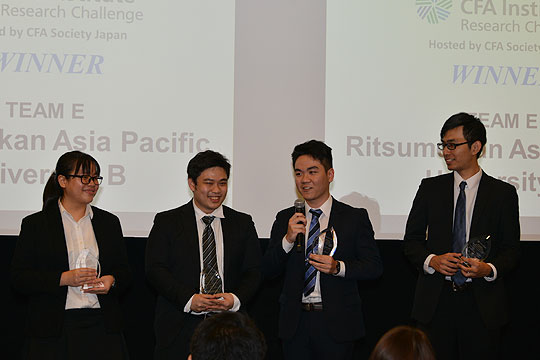 Photos courtesy of CFA Society of Japan