To support students serious about starting their own businesses, President Haruaki Deguchi launched the APU Startup Program, also known as the Deguchi School. President Deguchi is himself an entrepreneur, having cofounded the Lifenet Insurance Company, and he personally oversees the program. The APU Startup Program is a practical extracurricular initiative that aims to develop APU students into entrepreneurs who can succeed both in Japan and overseas.
At an APU Startup Program event on November 6, APU alumni Dissa Syakina Ahdanisa '10 and Wataru Uchimura '05 shared their entrepreneurial wisdom with students in the program. This event was the third in a series of opportunities for students to listen and ask questions of individuals who have succeeded in business.
After opening remarks from President Deguchi, Uchimura started the session by giving insight into digital marketing. Uchimura is the CEO of Douga-tec, a consultancy that specializes in digital video training. He mentioned that data is key to producing results. The success of something is not predetermined, so testing, gathering data, and analyzing that data is key to future development.
In the second half of the talk, Ahdanisa recounted her experience founding Deaf Cafe Fingertalk, a business that employs people with disabilities in Indonesia. Funding the venture herself, Fingertalk started out as a single café on the outskirts of Jakarta. Ahdanisa wanted to help empower people with disabilities through employment in a sustainable business model. Since the organization's founding, it has expanded from food services to employment training and is looking to grow even more.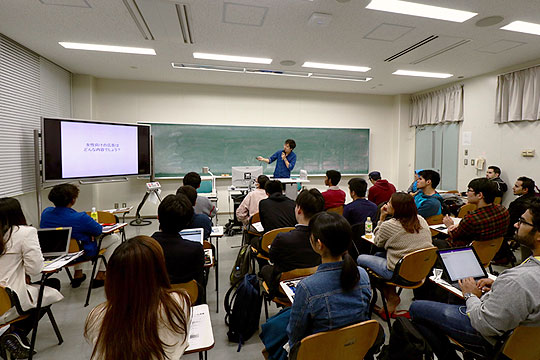 APU Professor Tomonori Sudo gave two special supplemental lectures to the students in the APU Startup Program on Tuesday, December 4 and Monday, December 10. Using Beppu City and the support it makes available to startups as an example, Professor Sudo discussed the types of support available to startups and those looking to start a business, and how this support works.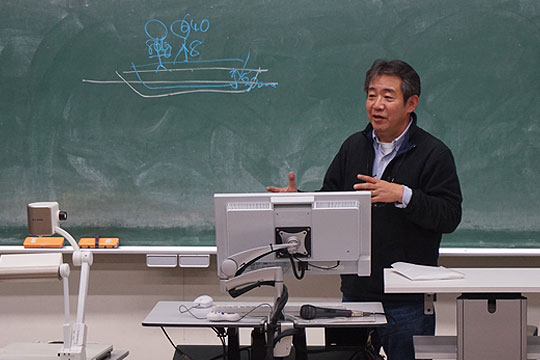 President Deguchi opened the fourth Startup Program event on Tuesday, December 11 with a few words of encouragement to the students before turning the microphone over to APU alumni Johan Larsson '09 and Keishin Yamashita '06. Yamashita is a representative director of Lib Commerce, an online beverage importer and reseller that services the hotel and restaurant sectors as well as individual consumers. Larsson is CEO of the Tokyo-based IT startup Dynaptico, which builds and operates online platforms for food and drink delivery such as the English language site Maishoku and the B2B food delivery platform Cloudmeal.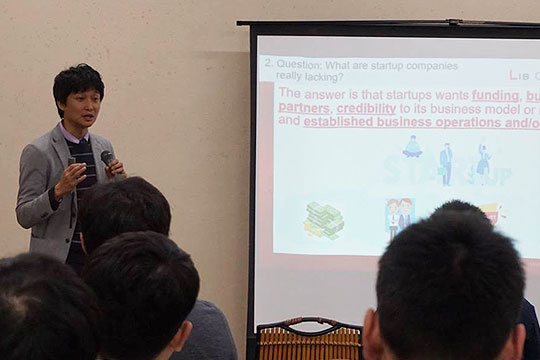 The APU Startup Program is a unique opportunity for APU students to learn directly from business professionals that have succeeded in a variety of industries. This year long program launched in August 2018.