TOKYO – Ritsumeikan Asia Pacific University and the Ashinaga Foundation concluded a partnership agreement at a signing ceremony held at the Foundation's headquarters in Tokyo on December 19, 2018.
Under this agreement, the parties will work to develop globally talented individuals by providing financial aid and educational opportunities to orphans in Africa with the ultimate goal of contributing to the socioeconomic development of the African region. More specifically, students who have successfully completed the Ashinaga Kokoro-Juku program will be recommended to APU, which will provide tuition reduction scholarships while the Ashinaga Foundation covers their airfare and living expenses.
At the signing ceremony, President Haruaki Deguchi gave an overview of APU and explained the university's ideals. He remarked: "APU accepts international students from 90 countries and regions and puts them in an academic melting pot with students from all over Japan. Although APU and Ashinaga have slightly different objectives and ideals, we both share the goal of wanting to cultivate change makers who want to change the world and make it a better place. Like the United Nations, APU attracts people from all over the world, and I would like to see us become a university that thinks about global development."
Following this, Dean of Admissions Yuichi Kondo discussed APU's admissions policy and African student recruitment efforts by saying, "Under the Japanese government's Top Global University Project, APU aims to recruit students from 100 countries and regions. However, in terms of diversity, the number of students from Africa, a region whose importance in the world continues to grow, remains low, so I hope we can admit a wide range of students, not only in terms of nationality but also in terms of background. I would like to see a large number of talented students from Africa come to Japan to study and take what they've learned back home to Africa. I hope our Japanese students can learn from them as well. This agreement holds significance for both our admissions and academic policies."
After this, Yukie Seki, Director of the Ashinaga Foundation's 100-Year Vision Project Office, commented that "The 100-Year Vision for Africa* began in 2014 with an eye on the 49 countries of sub-Saharan Africa. As of now, we have sent 109 students from 44 countries to study at foreign universities, and the total number of students including those still in training at our Study Camps has reached 158. To study in Japan, these students would typically need to study Japanese first, so they are limited to programs that will admit them on an English basis. Because students who go to APU can study Japanese after they enroll, we hope the university will produce students who can learn Japanese and become attractive talent for Japanese companies by the time they graduate, and become bridges between Japan and Africa in the future. This project is not very well-funded at this point, so we hope to partner with many more universities going forward. We hope this gives African orphans and children with disabilities a chance to learn, so they can give something back to society and grow into adults who can help others. This agreement signals the support of APU, and I hope we can develop this into a mutually beneficial relationship that produces people who can contribute to Africa while encouraging interaction between African and Japanese students."
Next, Ashinaga Foundation Chairman Yoshiomi Tamai stated, "The children who receive support from the Ashinaga Foundation live in poverty and have very few opportunities for a good quality education. We do not only want them to study, we want them to go to college. Sub-Saharan Africa is an extremely poor region, and these children may only eat one meal a day. Our first priority is on improving their daily lives, so we provide them with food and water, then we give them uniforms and the chance to experience the joy of learning. We believe that education is the best way to maintain human dignity."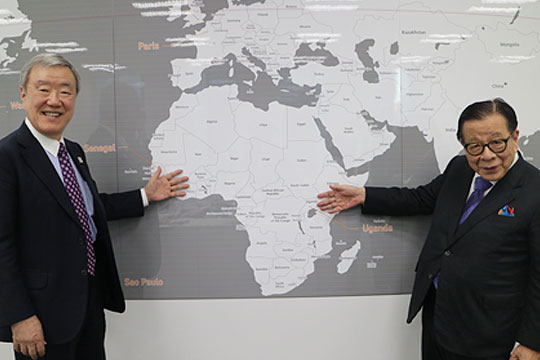 APU has offices in six countries and regions (Thailand, Korea, Vietnam, China, Indonesia, and Taiwan) that work with the various divisions and offices of the university to recruit students and engage in public relations. One of the goals under the Top Global University Project, for which APU was selected by MEXT in 2014, is to admit students from 100 countries and regions. Currently, 47 African students (including undergraduate, graduate, and non-degree students) from 21 countries are studying at APU, and APU has defined Africa as a strategic area for international student recruitment. APU also offers financial aid in the form of tuition reduction scholarships in an effort to attract the best and brightest international students to APU.
*Ashinaga 100-Year Vision for Africa
The countries of Sub-Saharan Africa are said to be some of the poorest countries in the world. Under this project, one talented orphaned student each from 49 sub-Saharan African countries is selected every year to study at universities outside of Africa with the aim of cultivating future leaders in a wide range of fields required for the development of their home countries. Successful students are sent to one of Ashinaga's Kokoro-Juku schools in either Uganda or Senegal where they spend six months studying intensively and learning leadership skills. The Foundation helps these students advance to elite universities around the world and provides them with four years' worth of scholarships and living expenses. The objective of this project is to produce educated young leaders who will contribute to the development of their home countries upon their return and help make those countries more democratic.