The APU 2019 Spring Graduation Ceremony was held on Friday, March 15, 2019. This semester's graduating class has a total of 781 students, consisting of 535 domestic students and 246 international students from 35 countries and regions. Graduates included undergraduate, masters, and PhD students. Friends and family members from around the world gathered at B-Con Plaza in Beppu to celebrate the graduating students as they prepare to take what they have learned at APU to the next stage of their lives.
APU President DEGUCHI Haruaki congratulated the graduates and offered words of encouragement. "Thanks to the efforts of the graduating class, their families, the faculty and staff of APU, and everyone else in attendance, we are able to be here today for this graduation ceremony. Please allow me to extend my heartfelt congratulations to our graduating students! As a send-off for the graduating class, I would like to talk about three important points.
First and foremost, I hope you all become agents for change. The world we live in today is full of contradiction, and many people are struggling to survive. As a history buff, I believe that the 5,000 years since humans invented writing have been a process of people trying to free themselves from a myriad of restrictions."
(President Deguchi's full comments can be found
here
.)
ISHIUCHI Yoshiki (College of Asia Pacific Studies, Japan), recipient of this year's ANDO Momofuku Honor Prize in thanking and honoring the graduates: "It feels like the world has gone through some turbulent changes over the four years that we spent at APU. The refugee problem has becoming increasingly prominent. Terrorism has occurred in places all over the world. The global environment problem has become more serious. Populism has reared its head. As people who have spent their student days in an international environment, I think it is safe to say that over the last four years, we have sensed doubt and fretted over how each of us will engage with society and other individuals amid such times and trends and what shape our existence will take there, and have attempted to search out the answer to that question...Following my graduation from APU, I will advance to graduate school. While everyone will go down a different path from here on out, I feel that no matter what that path may be, we must never forget the gratitude that we have for every person and every presence that has helped us along the way. In addition to those feelings of gratitude, we should not forget our daily process of learning and our inquiring mind, and remain as individuals who are capable of taking action not only for ourselves, but for the world at large. It is that which defines us as students of APU, and will surely go on to drive us in our efforts to build a "better" society as we move forward. Let us make that our collective mission to build a "better" society while remembering to thank every person and every presence, starting with the dear friends and teachers whom we met at this university."
Then the student representative for the Graduate School, BASKOTA Raunak (Graduate School of Management, Nepal) gave a few words: "APU has in fact created us- broad minded intellectuals. We are not just citizens of our respective countries now. We are borderless. We are now Global Citizens. Treasure this. It is this what the world needs now the most. We need to be the leaders of the world. Today we finish one chapter of our life, a beautiful fun chapter. Now we need to reinvent ourselves and strive for tomorrow. Let's challenge ourselves and challenge the world to bring on changes. It is scary for us to find out what is in stock for us in the future, and yes it would be awesome to have a guide book. However, as the famous Japanese proverb, and also my personal favorite, goes- 'Shiranu ga hotoke', I believe it is wise sometimes not to know- and a little bit exciting too yeah?
Thank you very much APU for having me. Thank you all. Have a great day and I wish you the very best for the future."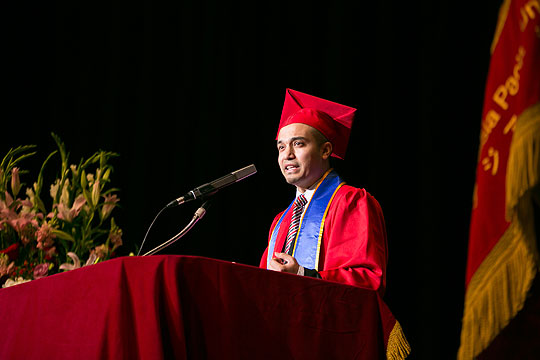 All of the graduates then gathered together to toss their red caps in the air to the chant of "We are APU" which was met with thunderous applause. The graduates left the ceremony in a joyous rush—each one eager to start out on their new life journey.
The graduation ceremony was streamed on Facebook Live.