Published by the Ritsumeikan Center for Asia Pacific Studies (RCAPS), the APU Journal of Langauge Research (APLJ) features path breaking research by APU faculty members.
On May 8, RCAPS held the first ever APULJ Symposium to share the wide-ranging research interests of language faculty at the university. The gathering also hoped to plant the seeds for new research articles and promote collaboration between the different languages that make up APU's Center for Language Education.
APU faculty members James Blackwell, Anthony Diaz, Tomoko Eto, and Huifang Zhang presented at the panel discussion on an assortment of topics. John Collins from Nippon Bunri University gave the keynote presentation entitled "Conducting Research and Writing and Publishing Articles." The symposium ended with poster presentations by several journal contributors.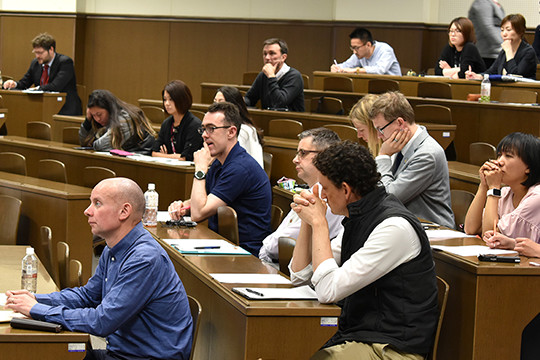 For more information about the APU Journal of Language research and other research at the university, you can visit this webpage.