The Association of Asia Pacific Business Schools (AAPBS) 2019 Academic Conference took place at APU from May 14-16. Founded in 2004, AAPBS includes over 130 member institutions in 30 countries and regions. APU Vice President Kenji Yokoyama is currently serving a two-year term as president of AAPBS. More than 80 scholars and staff members from member institutions attended the conference to discuss the future of business and business education in the Asia Pacific region.
Starting off with a mini-jam, attendees discussed questions on the future of business schools in the Asia Pacific region and around the globe. As globalization and internet access have shifted how people consume information, business schools face the challenge of staying relevant in a rapidly changing world. The mini-jam at APU is just one step in a cross-institutional dialogue about the future of business education.
The conference invited two keynote speakers to touch on the issues facing businesses in Japan. Yoshiaki Fujimori, Senior Advisor to the LIXIL Group, delivered a keynote speech on the reforms that Japanese companies will have to make to succeed under the pressures of globalization. Fujimori spoke using his experience as an executive at General Electric in both America and Japan, and his efforts to grow LIXIL's international sales. Dr. Gareth Monteath, Executive Director of Link Global Solution, Inc., then gave a talk on intercultural communication, focusing on the challenges of multicultural environments both in and outside of Japan.
The conference went for a site visit to Sanwa Shurui Co. Ltd., a large beverage company in Oita. The visit included a tour of production facilities and a panel session on unique aspects of Japanese businesses. Later sessions back at APU included talks on the future of Japanese and Chinese businesses, both domestically and internationally.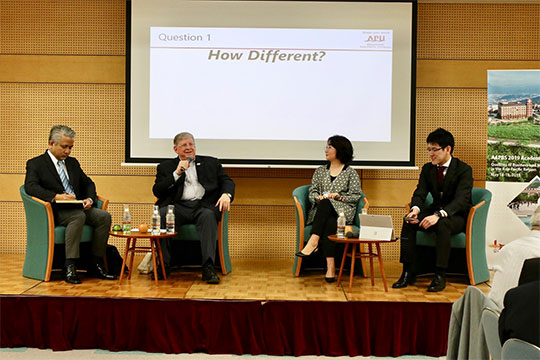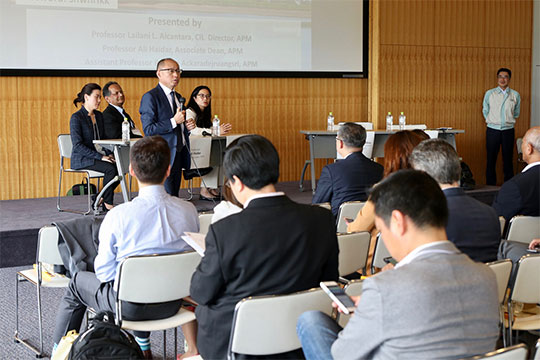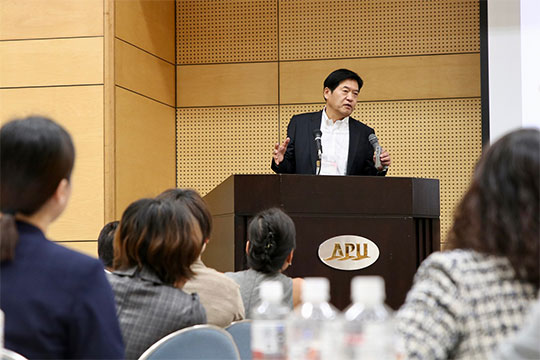 The AAPBS 2019 Academic Conference is just one of many academic events that take place on the APU campus. The university also hosts the annual Asia Pacific Conference, one of Japan's largest humanities and social sciences conferences conducted in English.