31 APU students, a majority of whom are Honors Program for Global Citizenship (HPGC) students, visited the Kyushu National Museum (https://www.kyuhaku.jp/en/) in Dazaifu, Fukuoka. This event was made possible by an invitation from the Kyushu National Museum Promotion Foundation, which raises awareness of the museum's cultural preservation efforts.
In a behind-the-scenes tour, students were divided into four groups led by a few English-speaking volunteer guides. The groups spent nearly an hour touring areas that are usually off-limits to the general public.
First the groups were led to the foundation of the museum and learned about its seismic isolation structure which consists of huge natural rubber bearings and steel dampers. Some students, especially those from countries or regions with very few earthquakes, were amazed at the efforts the museum has put in developing such a sophisticated seismic isolation system. Museums are usually associated with the direct preservation of historical and cultural artifacts.
The groups then went behind the exhibit areas to the restoration and storage areas. They had the chance to observe restoration work in progress through observation windows. The students marveled at the hands of restorers working on intricate pieces of artifacts. They also listened to a talk on the importance of air conditioning facilities, especially the crucial factor of controlling the temperature and humidity level. The interior materials of the area are covered with cryptomeria boards, which allows for natural humidity control without artificial elements.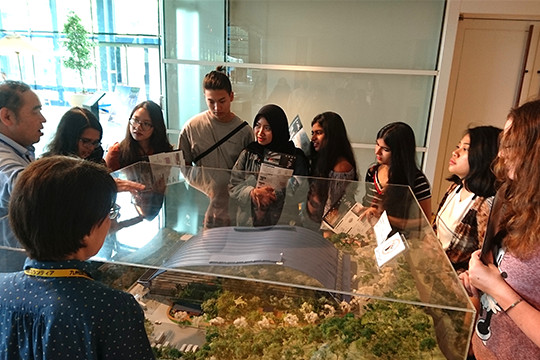 After the tour, students explored the museum exhibits on their own. The museum's special exhibition was "The Buddhist Sculptures of Daihō'onji, Kyoto Masterpieces by Kaikei and Jōkei." One student from India excitedly remarked, "I am glad to see the influence of Buddhism in places like this – it's like finding my own roots." A Japanese student from Kyoto said "Even for someone from Kyoto like myself, it is very rare to see such extensive collections. It was a good chance for me to re-learn about my own culture."
After the museum came local experiences. Some students visited Dazaifu Tenmangu Shrine, while others tried Umegae Mochi (sweet red bean filling wrapped in mochi stamped with a plum blossom) for an enjoyable afternoon. For some, it was their first experience visiting a Japanese shrine, and their Japanese friends helped by showing how to cleanse their hands and draw a fortune – a hands-on cross-cultural experience at work. It was a valuable, off-campus day full of learning where everyone could experience history and culture.