On Wednesday, July 3, four students gave their final presentations for APU's highest award: the Ando Momofuku Honor Prize. Established by a generous endowment from Nissin Foods founder Momofuku Ando, the Honor Prize awards one million yen to one student every semester. Competitors are judged not only on their academic record, but their history of extracurricular activities and future plans to contribute to the Asia Pacific Region.
Shaikat Hassan started the presentations by diving in to the state of cyber security in Bangladesh, his home country. He was struck by government policies that failed to prevent the digital theft of over 100 million US dollars from Bangladesh's central bank. His goal is to gain experience at a cyber security firm, then go on to be a policy maker himself.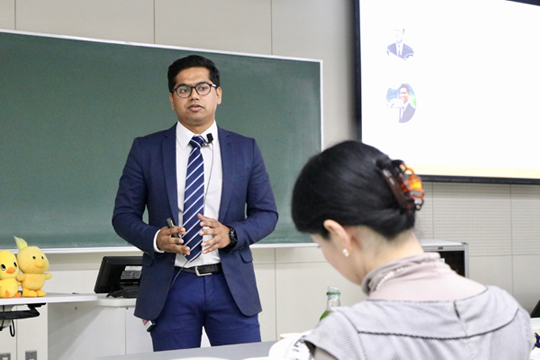 Zubayer Sayeed, also from Bangladesh, seeks to reduce food wastage along the supply chain from farm to table. For Zubayer, the problem of global hunger and food scarcity can be tackled at the distribution level. Zubayer has already been accepted to graduate school at Tokyo University to study these problems.
Hiroaki Nakai gave the third presentation, focusing on his volunteer work at APU. Hiroaki wants to use what he's learned in marketing to bring about sustainable community development across the world.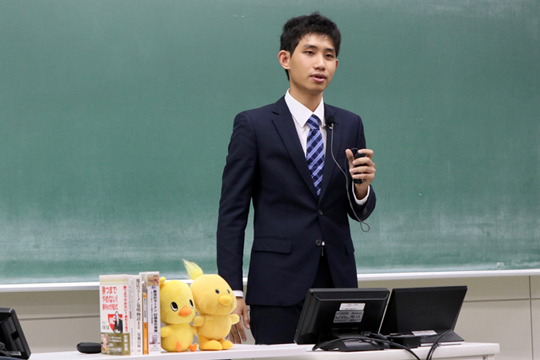 Shafira Indah presented on the need to improve global access to education. Shafira specifically wants to improve education access in Indonesia, and looks to become the first female Minister of Education in the country. Shafira interned at the United Nations, and plans to use her past experience to achieve her future goals.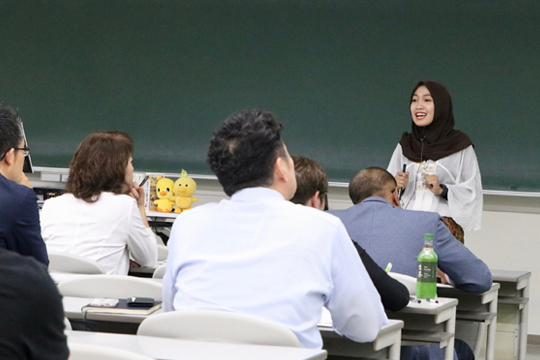 After each presentation, judges asked sharp questions to learn further details of the candidate's plans for the future. At the end of the event, one judge commented that "Without question, you are all the best representatives of APU." A representative of Nissin Foods remarked, "I really enjoyed the presentations. We see your experiences and skills, and recognize the potential and vision in all of you."
The winner of the Ando Momofuku Honor Prize will be invited to give a speech at graduation, and will also visit the Nissin Foods headquarters in Tokyo. Momofuku Ando also provided an endowment that funds the Ando Momofuku Award, a scholarship given to exceptional students in their 2nd or 3rd years.