On July 19, student leaders of the APU Chapter of Beta Gamma Sigma (BGS)1, a premier honor society for students of AACSB-accredited business programs , hosted a discussion with MBA student Ikram Mohamed Ihthisham Mohamed '15, who is also one of the student leaders of the APU Chapter of BGS.
Mohamed graduated from APM and returned to earn his MBA in 2017 after gaining some work experience. He is scheduled to finish the MBA Program this fall. When he graduated from APM, he was selected for the Ando Momofuku Honor Prize, the highest possible honor for an undergraduate student. In addition to his studies and research, he is currently active in a variety of extracurricular activities including his role as coordinator for the Global Business Case Challenge2. In his talk, he reflected on his rewarding time at APU and offered his younger peers some words of encouragement based on his own experiences, "Keep searching for your strengths and use of them. And make no excuses." He told the students he hopes they will clearly define what they want to do, then take action to make it happen. After the talk, many of the students lined up to ask Mohamed questions.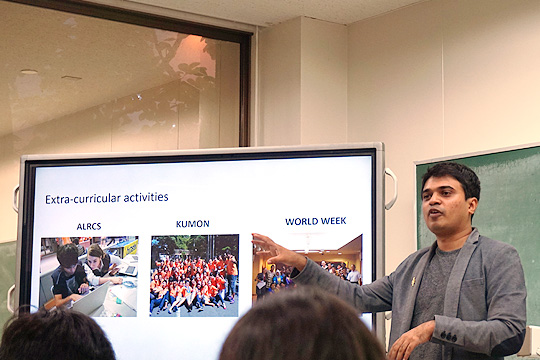 Each chapter of BGS is encouraged to undertake activities based on the spirit of "BGS Gives Back," which seeks to make students realize that they wouldn't be where they are without their parents, teachers, upperclassmen, classmates, and friends. As a sign of gratitude, members who feel they have reached a point where they have something to contribute are encouraged to give back to younger members and the rest of the BGS community. This lecture is just one example of the "BGS Gives Back" spirit, and the APU Chapter plans to continue holding similar events throughout the year.
1 Having successfully obtained accreditation from AACSB International2, the College of International Management and the Graduate School of Management are now recognized as a provider of world-class business education. APU established a chapter of Beta Gamma Sigma (BGS), a premier honor society open to students of AACSB-accredited business programs.
2 Established in 1916, the Association to Advance Collegiate Schools of Business (AACSB) is a global membership organization of educational institutions, businesses, and other entities committed to the advancement of management education. AACSB accreditation is widely regarded as the highest level of accreditation for business schools. Being an AACSB-accredited business school means being part of a network of 775 institutions spanning 52 countries and regions across the globe who have successfully met the standards set forth by the association, and who have committed to maintaining these standards. Less than 5% of the 16,000 business school programs worldwide have earned this accreditation.