The APU 2019 Fall Graduation Ceremony was held on Friday, September 13, 2019. This semester's graduating class has a total of 581 students, consisting of 95 domestic students and 486 international students from 49 countries and regions. Graduates included undergraduate, masters, and PhD students. Friends and family members from around the world gathered at B-Con Plaza in Beppu to celebrate the graduating students as they prepare to take what they have learned at APU to the next stage of their lives.
APU President DEGUCHI Haruaki congratulated the graduates and offered words of encouragement. "Thanks to the efforts of the graduating class, their families, the faculty and staff of APU, and everyone else present today, we are able to be here for this graduation ceremony. Please allow me to extend my heartfelt congratulations to our graduating students! As a send-off for the graduating class, I would like to talk about three important points. First and foremost, I hope every one of you become agents for change. The world we live in today is full of contradiction, and many people are struggling to survive. As a student of history, I believe that the 5,000 years since humans invented writing have been a process of people trying to free themselves from restrictions."
(President Deguchi's full comments can be found here.)
INDAH Shafira Zata Dini (College of Asia Pacific Studies, Indonesia), recipient of this year's ANDO Momofuku Honor Prize in thanking and honoring the graduates: "I want to emphasize to you today is that it's okay not to be on the track. At some point in your life, something may cross your path and change the whole direction. It is okay if your plan is going astray. And for those who have not been settled yet, it is okay to take one step back while everybody is moving forward. To the class of 2019, this is the part of our journey where we stop for a moment to reflect on all that has been accomplished. What we have done together for the past few years in APU is truly wonderful. We stuck together in this Jumonjibaru holy mountain and grew together and I could not have chosen a better class to be part of…I have faith in each one of you, that no matter where you choose to travel, you will make it and you will succeed."
Then the student representative for the Graduate School, LI Ying (Graduate School of Asia Pacific Studies, China) gave a few words: "Our university has a tradition of presentation, which is almost the basic requirement of all classes. At first, I was not good at speaking in front of many people, especially in English. But after one year's practice, today I can stand here and speak in front of all of you. Though still a little nervous, I finally did it! The effort on presentations I made in this year is not in vain. Maybe I will forget the exact contents of the presentations, but being able to speak in English in front of many people will always be one of my strength…All we need is the courage to take the first step, to confront the fear. No matter what you are going to do in the future, either go to work or continue your study, do not fear the unfamiliar things. Just face the challenge and try to do it. Hard work always pays off."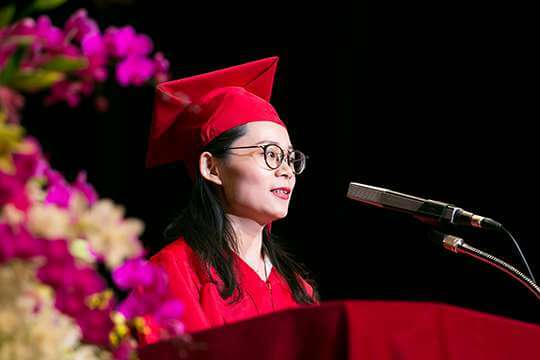 All of the graduates then gathered together to toss their red caps in the air to the chant of "We are APU" which was met with thunderous applause. The graduates left the ceremony in a joyous rush—each one eager to start out on their new life journey.
The graduation ceremony was streamed on Facebook Live.