On October 3–5 (Thu–Sat), 2019, Mitsubishi Chemical Holdings Corporation held a training workshop at APU. The workshop was attended by 35 of its employees working in different positions at overseas and domestic offices of the company.
Mitsubishi Chemical Holdings operates a broad range of businesses in the fields of functional products, materials, and healthcare in over 40 countries and regions around the world, and it aspires to realize its core values of "sustainability, health, and comfort" through its business activities. The participants in the training workshop at APU are taking part in various forms of training to offer suggestions on "the next steps for Mitsubishi Chemical Holdings with an eye toward the future (looking 10 or 20 years ahead)" for the company. The training workshop at APU was held in this context.
On October 3 (Thu), APU President Haruaki Deguchi gave a lecture on the theme of "How to reflect on the companies and work models of the future." From the next day, the workshop participants were divided into five groups, each joined by three APU students representing a total of 11 countries and regions. In their groups, the workshop participants held discussions with APU international students from around the world on themes determined by each group in advance (such as "What are the characteristics of a truly global chemical company?" and "How can we address abnormal weather patterns?"). Afterward, each group summarized the opinions discussed and gave a presentation followed by a Q&A session, in which other workshop participants and APU students asked various questions.
After the workshop concluded, Shigeki Habuka, Corporate Executive Officer and General Manager of the Public Relations and Investor Relations Office at Mitsubishi Chemical Holdings, commented, "This workshop has allowed me to fully realize that diversity will play a key role in the era to come."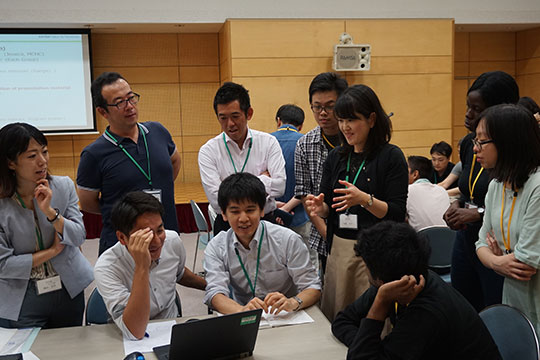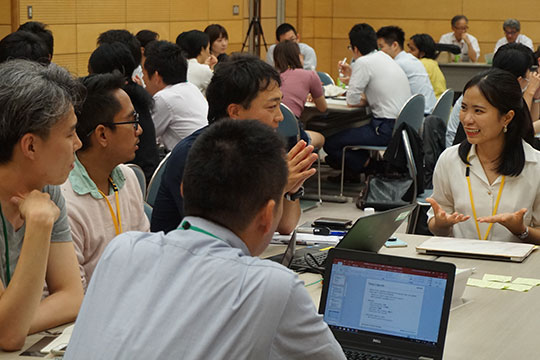 GCEP is a program that takes advantage of APU's multicultural and multilingual campus to provide training to employees from partner companies. Participants undergo training tailored to the needs of their respective companies while gaining the broad perspectives and international sensibilities required to live and work in a global society through interacting with a APU's diverse student body.
You can find more details about GCEP here. (Available in Japanese only)