APU concluded a Friendship Agreement with the Saga Prefecture town of Arita at Arita Town Hall on Wednesday, October 30, 2019. With the goal of exchange and collaboration in implementing initiatives that promote regional revitalization and development of human resources, the agreement aims for mutual exchange and utilization of both human and intellectual resources, as Arita and APU cooperate in a wide range of fields, including education, culture, community development, and internationalization.
At a signing ceremony on the same day, APU President Haruaki Deguchi expressed the desire for APU, as a university based in Kyushu, to continue contributing to the welfare of Kyushu, as well as his delight in joining forces with a town that has such a storied tradition of making porcelain. Additionally, because the appeal of the region is completely different for visitors compared to residents, APU's ability to blend different perspectives and value sets – as exemplified by APU's diverse student body – can be leveraged to strengthen the community.
With these kinds of sentiments, President Deguchi voiced his aspirations to contribute to regional revitalization in the town. Arita Mayor Yoshiaki Matsuo expressed his desire – in an aging society where birthrates are falling – to lean on the diversity and abilities of APU students to help his small town compete on the world stage. He said expectations should not focus on short-term results, with even small gains acceptable in the first stages, but that as this relationship moves forward he would like to focus 10 or 20 years down the road; and that the goal in the coming days will be to create a system where APU students can learn in Arita through internships related to ceramics and tourism, in addition to other aspects of its culture.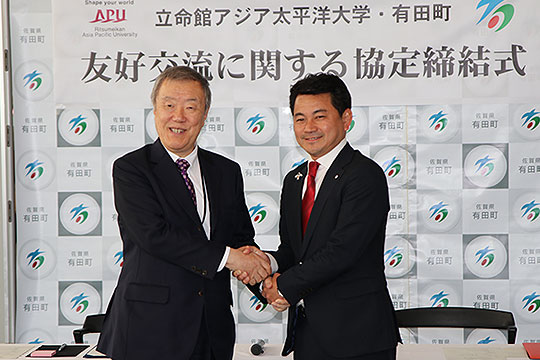 After the signing ceremony, a commemorative lecture was held at the Arita Campus of the Saga University Faculty of Art and Regional Design, where APU President Haruaki Deguchi gave a lecture for the some 100 townspeople in attendance on the topic of "Developing global talent to send out into the world".