講演・シンポジウム|20周年
Dec 5, 2019
On the evening of Friday, November 22, about 30 people gathered at the Ritsumeikan Tokyo Campus for the third installment of the 20th Anniversary APU Faculty Lectures in Tokyo series to hear Professor Yoichiro Sato present a lecture titled "Prospects for the Quadrilateral Security Dialogue (QUAD): What is Japan's Indo-Pacific Strategy?"
Addressing topics such as Japan's relationship with its ally the United States, as well as Japan's recognition of the need for an Indo-Pacific strategy, Professor Sato provided a multi-angle look into a Japanese diplomatic strategy which views the dynamism stemming from the intersection of the Indian and Pacific Ocean regions as the key to the stability and prosperity of the global community.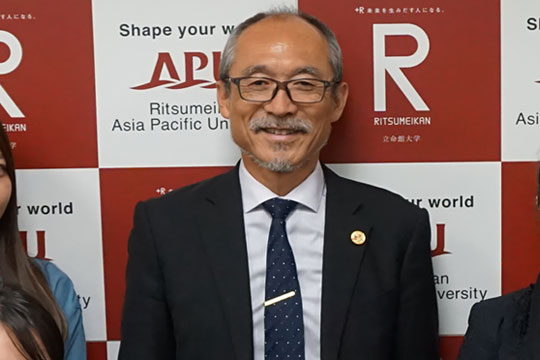 For the 20th Anniversary APU Faculty Lectures in Tokyo series, members of the faculty of APU will visit Tokyo to deliver lectures on different subjects each month until January 2020. The fourth installment of the series was held on Sunday, December 1, when Professor Lailani Alcantara gave a lecture entitled "Inclusive leadership: Why and How it Matters?" The fifth installment will feature a talk by Associate Professor Thomas Edward Jones on Friday, January 17, entitled "Combatting Overtourism: From Mt. Fuji to the World."
The 20th Anniversary APU Faculty Lectures in Tokyo are open to the public. To register for a lecture, please use the link below.
Apply here