教育プログラム|学生生活|受賞
Feb 4, 2020
On Tuesday, November 12, 2019, the 17th Japanese Speech Contest for Foreigners was held in Oita City. Not only does this offer individuals from countries and regions around the world the opportunity to use Japanese to express their thoughts on aspects of Japanese society and culture in which they have an interest, this speech contest is also an opportunity for Japanese to reflect on their own country and gain a new perspective on the state of Japan and international society. This annual contest is run by its sponsor, Goto Gakuen.
Eleven international students from Indonesia, South Korea, China, Bangladesh and Vietnam took part in this year's competition, the 17th for this contest. All participants live in Oita prefecture and have been in Japan for less than five years. Three students from APU took part: Elvira Yunitan (class of '20) from Indonesia, Kelvin Tang (class of '20) from Indonesia, and Abdullah Imam Shafi (class of '23) from Bangladesh.
Ms. Elvira Yunitan titled her speech, "Please Try Everything." She used the example of the first time she tried durian, a fruit that she had never tried because she hated it from the smell alone. When she finally tried it, she found she liked it. She realized the importance of pushing yourself to try something rather than avoiding the things you dislike. She shared anecdotes of how she has actively challenged herself to try new things such as dance, languages, and applying to study in Japan as a scholarship student. For her speech, Ms. Yunitan received the Grand Prize.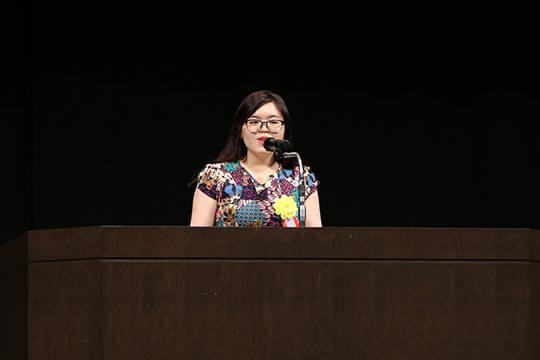 Mr. Kelvin Tang's speech, "People think this way, too!" used anecdotes from his experience as an RA1 in AP House, the APU on-campus dormitory. His speech recognized the importance of respecting different ideas and opinions. He was awarded the Nishinippon Shimbun Prize.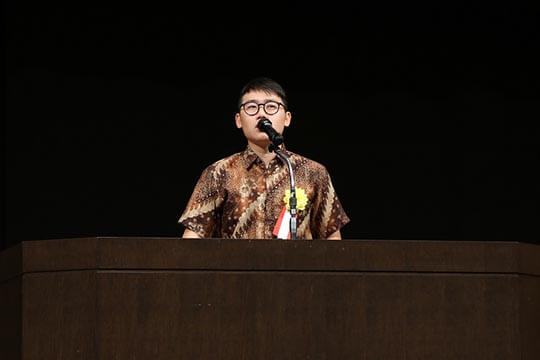 Mr. Abdullah Imam Shafi gave a speech on the topic of "My Family I Found in Japan" where he spoke about how some Japanese people he met by chance helped him, and how out of this experience they developed a close, family-like relationship. He said he would like to return this favor by doing kind acts for others. He was chosen as the winner of the Yomiuri Shimbun Seibu Honsha Prize.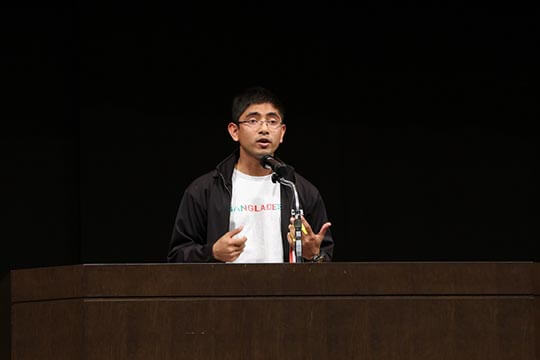 The three students who took part in the contest rehearsed their speeches under the guidance of Ms. Wakana Watanabe, a lecturer with the APU Center for Language Education, so that they could deliver them smoothly on the day of the contest without referring to a script.
Ms. Watanabe commented, "Elvira Yunitan studied Japanese in Tokyo and also enrolled in APU as a Japanese-basis student; all in all, her pronunciation is good. She eagerly challenges herself to try all sorts of things; she applied for this speech contest on her own. She has also studied Chinese, Spanish, and Korean, and her pronunciation in every language is excellent. I think this is the result of actively challenging herself. I hope that the APU students who come after Ms. Yunitan will emulate her good pronunciation of Japanese and her spirit of trying anything."
Discussing Mr. Tang's effort, Ms. Watanabe said, "In his four years at APU, what Kelvin Tang has put the most effort into is his job as an AP House RA. He told me that right before this contest he took part in the Educational Management Meeting for University Dormitories held in Toyohashi, Aichi prefecture, where he gave a speech about his own RA experience. He explained, 'it's not just APU; there are also a lot of Indonesians living in Oita Prefecture. I applied to give a speech both to see how my own Japanese skills were, and also to serve as a representative of all the Indonesians living here, students as well as others.'"
Finally, Ms. Watanabe praised Mr. Shafi, saying, "Abdullah Imam Shafi enrolled at APU in Spring 2019 and is currently studying in the Intermediate Japanese class. His spirit for challenging himself to things is stronger than almost anyone else. He has participated in homestays and regional exchange activities. Immediately after I spoke about the contest, he raised his hand. He chose his topic right away, saying he wanted to speak about his Japanese host family. In his speech he spoke about Mr. Kazu, his host father in Hiji Town, Oita Prefecture. Mr. Kazu has put effort into nurturing a family-like relationship with Mr. Shafi, from attending APU's Tenku Festival to spending the year-end holidays together with Mr. Shafi. It sounds like their ongoing relationship is truly warm-hearted."
With Ms. Watanabe's instruction and plenty of diligent practice by each of the students, all three were able to communicate both their experiences in Japan and their own thoughts in Japanese. In the end, all three students won prizes, which validates the great effort they put forth.
Note:
1. RA: Resident Assistants are student staff that live in the APU student dormitory AP House, providing essential support for student residents as they are beginning their lives at APU and in Beppu.