教育プログラム|連携事業
Mar 10, 2020
On February 10, 2020, a signing ceremony, press conference, and commemorative event were held on the occasion of the conclusion of a high school-university partnership agreement between APU and Oita Prefectural Tsurumigaoka High School. President of APU DEGUCHI Haruaki and Principal of Tsurumigaoka High School HIMENO Hideki attended the signing ceremony.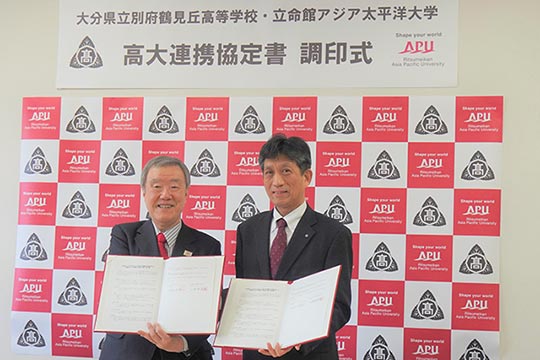 President of APU DEGUCHI Haruaki and Principal of Tsurumigaoka High School HIMENO Hideki
The agreement aims to yield a partnership that will encompass both institutions' educational content as well as person-to-person exchanges and the usage of intellectual resources centered around a cutting-edge model case for discovery-oriented learning. Both parties will continue discussing the details of the partnership, which will commence this academic year. This is APU's first partnership agreement with a prefectural high school in Oita Prefecture. At the signing ceremony, President DEGUCHI said, "Last October, all the first-year students of Tsurumigaoka High School, which is also located in Beppu, visited the APU campus. I hope we can make use of our location in Beppu to begin developing inquisitive global talent from the high school stage and to help invigorate Oita and the wider Kyushu region."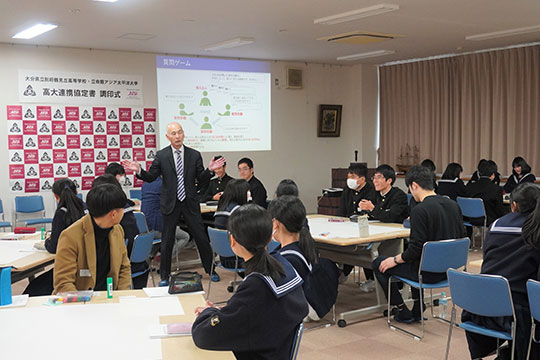 At the commemorative event after the signing ceremony, Professor USUI Michimasa (Ritsumeikan University Institute for Teaching and Learning; APU Admissions Senior Fellow), who conceived the logical flower chart* admissions scheme aimed at cultivating graduates who can change the world, gave a special lecture entitled "Tsurumigaoka and APU: The Potential for Discovery-oriented Learning." Next, the eight APU students who joined the event as Teaching Assistants (TAs) and the approximately 40 high school students in attendance undertook collaborative group work focusing on what it means to pose questions based on a presented topic and then think about them on your own. While they seemed hesitant at times tackling an assignment they were not used to, the students engaged in vigorous discussions and smiles filled the room.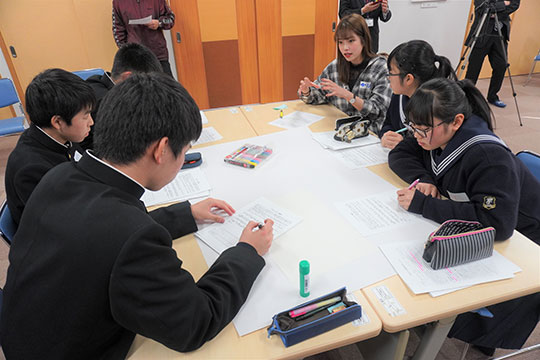 * Logical flower chart: A discovery-oriented learning tool developed by APU to encourage students to pose their own questions and use their own methods to demonstrate the optimal response in some form of output (e.g., a paper or presentation) or by scrutinizing the discussions of their peers.