The first class for APU GLAD (APU Global Learning for sustAinable Development), a new program aimed at first-year students, took place on Wednesday, June 24.
APU GLAD is a multicultural collaborative learning program conducted in an online environment that utilizes the COIL1 classroom format to enable APU students and students from partner schools outside of Japan to study together through lectures by guest speakers. The inaugural cohort includes 92 domestic students and 49 international students from APU as well as 22 students from overseas partner schools. In all, the students in this class represent more than 20 countries and regions from across the world. Even as the COVID-19 pandemic is currently making overseas travel difficult, APU continues to provide an unparalleled multicultural learning environment for its students.
In this program, participating students split up into small groups of five to six members for groupwork. In these groups, participants communicate in both English and Japanese as they come up with projects that contribute to the United Nations' Sustainable Development Goals2. This requires the participants, who have differing backgrounds and mother tongues, to work proactively in order to discuss their individual opinions. Senior students fluent in English and Japanese provide linguistic support to help with communication.
The first class began groupwork sessions right away. As the students worked online, their screens showed a spectrum of emotions on the faces of other participants, from nervous anxiety to joyous enthusiasm. Through participating in this program, which runs until August 5, students will develop a multicultural adaptability and the mentality of global citizens, both important traits for APU students to cultivate.
Below are some opinions of participating students and their ambitions in future classes.
Takahito Kataoka '24 (APM, Japan)
I applied to the APU GLAD program to outfit myself with two abilities: practical English-language capability and the ability to think deeply about global problems. Despite the fact that we can't be on the APU campus physically right now, I was determined to fully experience the multilingual and multicultural environment that APU offers. As such, I am tackling the challenge of GLAD classes. However, because I feel like speaking English is difficult, I have a better sense of just how challenging it can be to exchange opinions on global issues with students with considerably different backgrounds from my own, including those from Africa, Hawaii, and Thailand. For now, each class session for me is a series of trial-and-error. However, I intend to continue trying my best so that I can get closer, even if only a little, to my goal of becoming a global citizen with high levels of language ability and humanity.
Hiruni Thiranya Liyanarachchi '23 (APM, Sri Lanka)
There are many young people who are passionate about making a change in this world, but who do not know how to go about creating the change that they want to see. The APU GLAD program offers a very insightful project-based learning experience that educates such students about planning and executing feasible ventures aimed towards providing a solution for global issues, while nurturing cross-cultural exchange of ideas and opinions. It includes experience and advice from guest lecturers, which is very helpful to students as this affords a realistic look inside the planning, problems, and funding related to such schemes. I want to use this as a learning experience to gain practical knowledge related to such socially impactful projects, so that I too can become a useful resource in helping make this world a better place.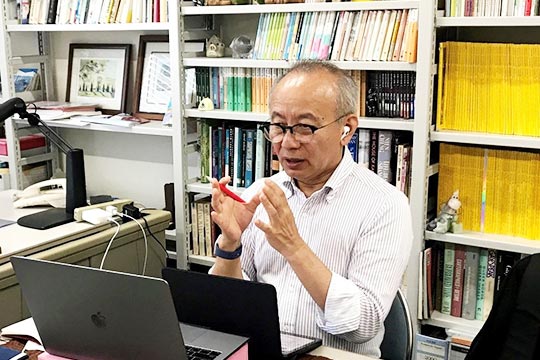 Notes:
1. COIL, which stands for Collaborative Online International Learning, is an educational method to deepen learning while engaging in international exchange online. 2. The Sustainable Development Goals, or SDGs, are international objectives stated in the 2030 Agenda for Sustainable Development adopted by the UN Summit in September 2015. Made of up 169 targets spread across 17 goals, SDGs aim to realize a better, sustainable world by the year 2030.