キャンパス整備|20周年
Sep 16, 2020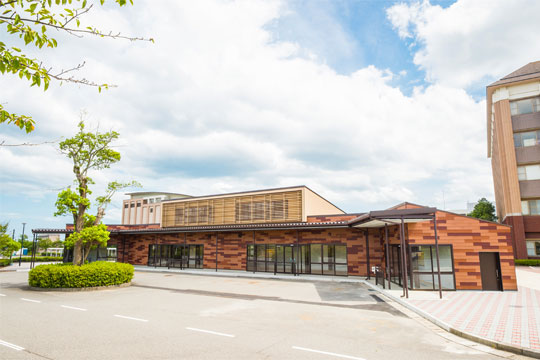 Construction of the Bus Shelter (Building I), which was inspired by APU's 20th Anniversary and is one aspect of APU's campus environment, has been completed. It began operating as a new bus stop for Oita Kotsu and Kamenoi Bus on September 16.
Suggestions for the name of this building and its common space were solicited from students, faculty, and staff, and many suggestions were received. President DEGUCHI screened the suggestions and made the final decision as to which would be used. KUWAMOTO Rimi (APS, 1st Year, Japan) suggested "Tokimachiba," saying she hoped the short time waiting for a bus would feel more significant for all users. Bhume Sudsawad (APS, 3rd Year, Thailand) submitted the name "Jumonjibaru Lounge" for the waiting room lounge space based on Jumonjibaru, the name of the site where APU's campus is located.
The convenience store (Lawson) sharing this facility will start temporary operations with shortened opening hours on October 8, 2020.
Current temporary hours: Monday-Friday, 11:00-19:00
Saturday, 11:00-13:00
Sunday, Closed