講演・シンポジウム|イベント
Jan 20, 2021
On Friday, December 18, student leaders of the APU Chapter of Beta Gamma Sigma (BGS)* hosted a guest lecture event. The event was launched last year, but this year, APU alumni were invited for the first time to talk about their impressions of the impact of COVID-19 and tips for leading fulfilling student lives.
* BGS is an international honor society composed of top performing students in AACSB-accredited schools.
The two guest speakers, both of whom were BGS student leaders during their time at APU, were Vu Huy Hoang (College of International Management, 2019) and MOHAMED Ikram Mohamed Ihthisham (College of International Management, 2015, Graduate School of Management, 2019).
After working at the auditing firm KPMG, Mr. Hoang enrolled in graduate school at Ritsumeikan University in October 2020. Based on his experiences, he advised the students in the audience to "accept that you may 'fail' temporarily but use this as a ladder for the long-term success" and "always seek the opportunity of improving yourself." In addition, he provided tips for how to overcome obstacles to those students who are frustrated that they cannot lead conventional campus lives due to COVID-19 and those students who now face an increasingly difficult job-hunting situation due to reduced and/or postponed hiring.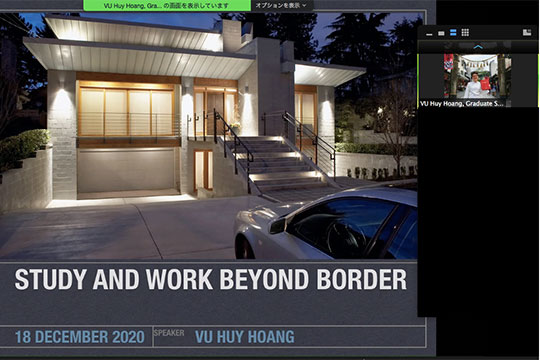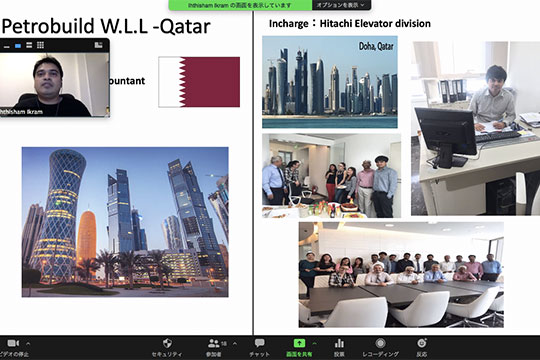 Next, Mr. Ihthisham provided some tips for leading a fulfilling student life while reflecting on his time at APU and shared his impressions of having just started working for the information services giant Bloomberg L.P. His experience was evident as he provided the attentive students with the following food for thought on job hunting: "decide on a career path not just the company", "look for the departments you can work in that company and look for companies where you can hone your skills", and "being bilingual is not a skill anymore."
According to event planner Bishal Dhakal (College of International Management, 4th year), he decided to hold this year's event after receiving inspiration from Mr. Ihthisham 's talk session in 2019 because he wanted to hear more words of wisdom from former students as he pursued his own job search.
These talks organized by the BGS student leaders are scheduled to be turned into a series called Talks with BGS Alumni, and the chapter plans to continue holding events that APU students will find useful.