講演・シンポジウム|受賞|イベント
Feb 5, 2021
On January 23, the AY2020 Inter-university Joint Student Symposium on Tourism, Hospitality and Leisure Research was virtually held with participation of more than 100 students and faculties from seven universities in Japan and guests speakers from other regions of the world. The symposium has been held since AY2018 to encourage academic exchange among seminar students conducting research on the tourism, hospitality, and leisure studies in English. From on-site events in in AY2018 and AY2019 held on the APU Campus this academic year, the event has transformed into online format that has been proven to be successful one by the largest numbers of participants and presentations. The AY2020 symposium featured 41 research presentations from undergraduate and graduate students from six universities (APU, Wakayama University, Kansai Gaidai University, Yamaguchi University, the University of the Ryukyus, and Kanagawa University *From Kanagawa University, only one faculty member joined as an organizer). The symposium was co-chaired by APM Associate Professor Saito Hiroaki. Additionally, APS Associate Professors Thomas Jones and Bui Thanh Huong served on the organizing committee.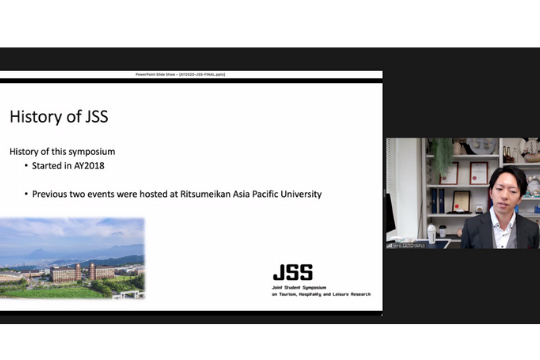 Eight students from APU had granted with the Best Presentation Award in different categories, where their work have been showcases of APU research and education quality. In details, three Undergraduate Student Presentation Awards and three Postgraduate Student Presentation Awards were conferred to those students who gave outstanding research presentations.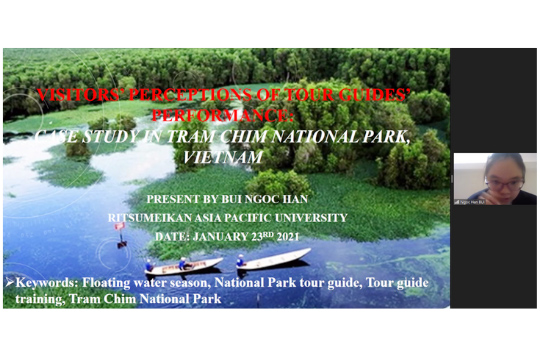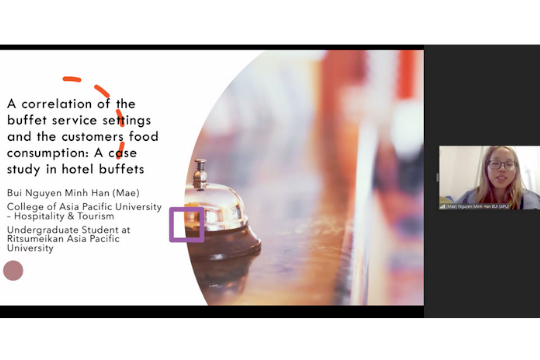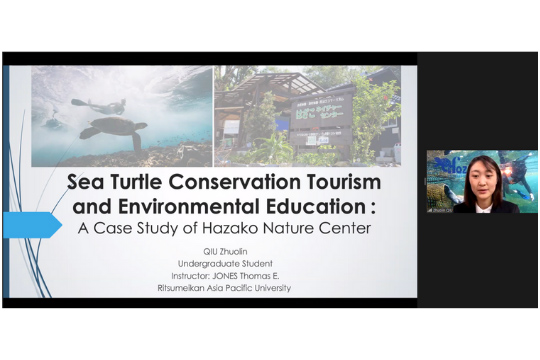 Challenging and Innovative research Awards had also been conferred to APU students. Innovative Research Award winner Rizky Muhammad Aditama (APM 4th year, Indonesia) explored the factors that influence consumer behavior in VR tourism in his presentation entitled "Consumer Perspectives on Virtual Reality Tourism." The other Innovative Research Award winner, Qiu Zhuolin (APS 3rd year, China), gave a presentation on her research into the approaches to environmental education taken by the Hazako Nature Center in Saiki City (Oita Pref.) and the impact of education on tourists.
Award Winners
Undergraduate Student Presentation Award
Arundhati Anggita (College of Asia Pacific Studies, Ritsumeikan Asia Pacific University)
Improving the Quality of Ecotourism Destination Through the Implementation of Green Human Resource Management
Yohei Harima (College of International Management, Ritsumeikan Asia Pacific University)
Decision-Making in Ryokans to Adapt with Risks From COVID-19
Bui Ngoc Han (College of Asia Pacific Studies, Ritsumeikan Asia Pacific University)
Visitors' Perceptions of Tour Guides' Performance: A Case Study in Tram Chim National Park, Vietnam
Postgraduate Student Award
Tatyana Almira (Graduate School of Management, Ritsumeikan Asia Pacific University)
The Influence of Organizational Changes, Employee Wellbeing, and Leadership Ryokan Should Adopt for Survival in a Global Crisis
Awadallah S. S. Alyamany (Graduate School of Asia Pacific Studies, Ritsumeikan Asia Pacific University)
Homeland Connection: Diaspora Tourism in Palestine
Antonio da Silva (Graduate School of Asia Pacific Studies, Ritsumeikan Asia Pacific University)
Collaborative Management Towards Sustainable Tourism Development in Timor-Leste: A Study of Stakeholders' Perception
Innovative Research Award
Muhammad Rizky Aditama (College of International Management, Ritsumeikan Asia Pacific University)
Consumer Perspectives on Virtual Reality Tourism
Qiu Zhuolin (College of Asia Pacific Studies, Ritsumeikan Asia Pacific University)
Sea Turtle Conservation Tourism and Environmental Education: A Case Study of Hazako Nature Center