Four international students from APU participated in internships with four companies and organizations in Arita, Saga Prefecture from February 18 to March 1, 2021. Besides touring the town, the students learned in detail about the process of making Arita porcelain, which is a traditional industry of the town. In addition to learning about raw materials, making clay, molding, and other aspects of creating ceramics, the students gained work experience promoting tourism and the sale of Arita ware for the town.
These internships were conducted to develop globally oriented human resources and revitalize the region of Arita, based on the agreement signed between APU and Arita in November of 2019.
■Comment by Arita Mayor Yoshiaki Matsuo:
"Even though your internships end today, I believe this marks just the beginning of our connection. Together with APU, Arita will continue to work on the sustainable development of the region from a global perspective."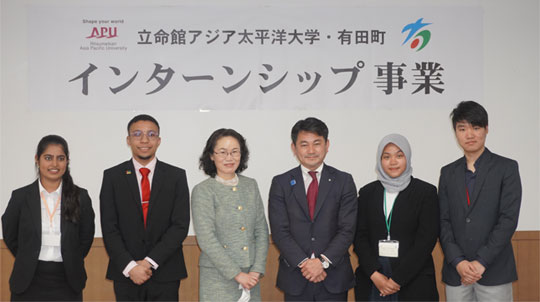 ■Comment by Li Yan, Dean of the College of Asia Pacific Studies:
"By unearthing as well as building the value of the region and expanding to people through avenues such as tourism, we will make way for its sustainable development and its future. Regional development is by no means an issue unique to Japan, but an issue that needs to be resolved around the world in the future. APU, together with Arita, wants to contribute to the solution."
■Comment by student participant Muskaan Mehta (College of International Management, 3rd year, India):
"This internship was a good opportunity to learn about the beauty and the depth of Arita porcelain. I made many discoveries, saw things from different perspectives, and faced challenges of my own that I couldn't have realized just remaining in Beppu. I intend to make use of these experiences when I reflect on my future direction."