During a typical year, when fall semester classes come to an end, the number of people in Beppu drops as APU students return home, depart for other travels, set out for study abroad programs, or go to internships. Due to the impact of the coronavirus pandemic, this year, students are refraining from traveling, and are instead spending time in their own apartments. Additionally, in-person extracurricular activities were restricted this year, forcing many student events to be canceled, or to be moved online. In response to this, APU planned multiple cultural experience events so that students, who have had few opportunities to interact with each other, can use their time away from classes during spring break to enjoy meaningful opportunities.
On Thursday, February 18, the Hut of Peace Spirit tea ceremony room on campus hosted a "hatsugama" tea ceremony (the first tea ceremony in the new year). The first hatsugama held at the university since APU was founded, this idea was proposed by tea ceremony lecturer Pongpan Sotai. Seven students who had previous experience in tea ceremonies acted as hosts. And participating students —who had applied in advance to take part in the ceremony as part of infection countermeasures— got to experience the event in the quiet atmosphere of the tea ceremony room.
Students serving as hosts for the tea ceremony and Lecturer Pongpan Sotai.
There were also several events planned for AP House residents—who have spent a lot of time in their own rooms. On Friday, February 19, the students took a bus tour to Mt. Tsurumi, and on Thursday, February 25, there was a kimono fitting class conducted by an outside lecturer as well as a cooking class for a small number of participants.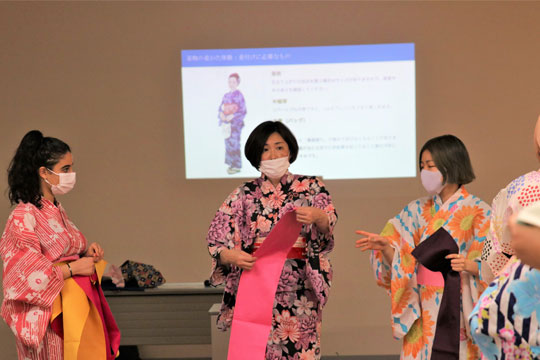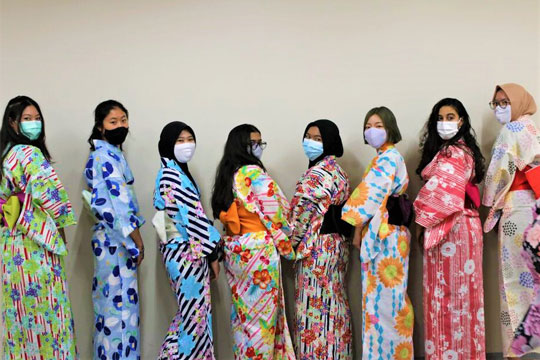 In March, the university is planning an event featuring bamboo ware, a traditional craft of Beppu, in addition to other events for various student clubs and circles.