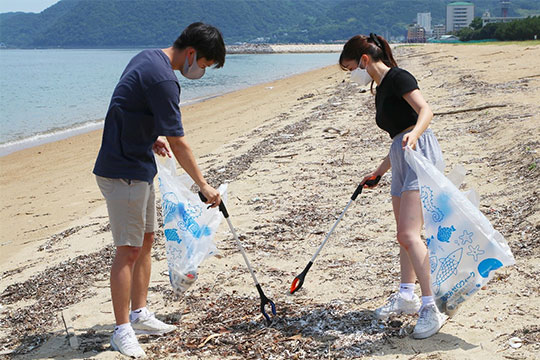 Those who take environmental courses at APU are exposed to the devastation human activity has wrought on our earth. Some take the lessons to heart and do as they can. Two such students are Honoka Furui (APS 3rd year) and Taefa Kim (APS 3rd year), who run an initiative to clean Mochigahama Beach every week.
These Environment and Development students began their endeavor last year in May when they thought of what they could contribute to the fight against the environmental crisis. Since then the two have been rallying other students to join in cleaning up Mochigahama, an area where trash tends to accumulate from either washing up on shore or being swept down from the mountainside. As of now, about 30 members have officially joined the group with around 5 individuals showing up on different days to help out.
These microplastics are especially dangerous as fish often confuse them for food and consume them.
When asked what sparked such a strong commitment to their cause, Taefa answered he was first awestruck by the recent Amazon and Australian wildfire disasters. "I realized the world is in danger," he said.
In addition to her APU education, Honoka, growing up in the nature of Aomori, was also moved by seeing first-hand the damage being done to Japan's ocean life. Her grandparents, who own a squid jerky company, testify how small the population of sea creatures have become and how different things used to be. She says, "A large amount of plastic waste is now flowing into the sea."
It is said that by 2050 there will be more waste in the sea than fish!
But what can be done to get others to take notice of this increasingly dire situation? Honoka and Taefa believe the key to getting more young people involved in environmental activism is simply awareness. "Many don't know the extent to which Earth is suffering," says Honoka. "When they become aware, they naturally feel the need to do something about it."
That is why the two are trying to use their social media presence to spread awareness about their beach cleaning activities. They are also in the process of planning fun events in which they will invite participants to help clean up as part of the program.
The group typically gathers on Wednesday mornings at 7:00. They also encourage others to start their own initiatives and pick up garbage on other days of the week.